hate
AMPTP) I thought that it would give me time to go back and spillcap ALL the episodes. AND, I'm even backdating them to the date they
originally aired
so it's all ~*~authentic~*~. So, let's begin:
We open 22 years ago from 2005. The year of Micheal Jackson "thrilling" us all with actually looking like a zombie before he became one, Microsoft Word being released upon the masses, and a Gestapo butcher named
Barbie
being rightfully convicted of war crimes. Also, a baby was born.
Caption: The Cutest Baby Boy on the Planet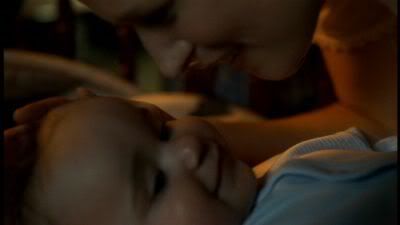 The Loving Mother comes in to kiss the baby goodnight, while Toddler Boy hovers over the baby like he's a new toy.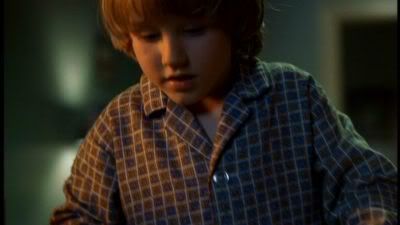 The ONLY functional family moment in SPN history.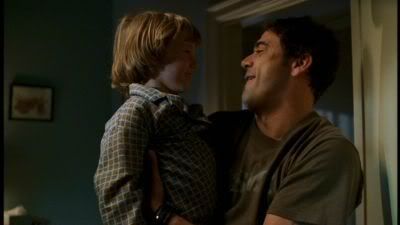 Mommy's wearing a white nightgown, which means she's going to die before the credit's roll...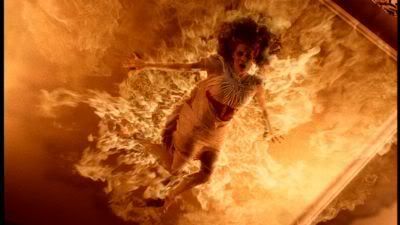 Yep.
Dramatic shot of Pain and Torture.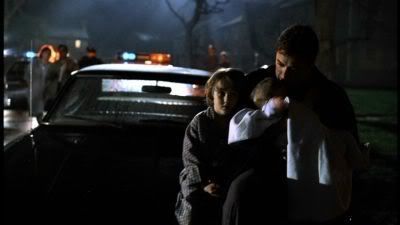 Haha, I love the people standing around in the background all "WTF just happened?"
Okay. FLASH FORWARD 22 years, so now we're back in the past at Stanford! Is it Jared Time yet?!?!?
Yes. Jared peeps his head out from the doorway, in his adorable fashion (can you see my bias?) looking like he just stepped right off the set from
Gilmore Girls
.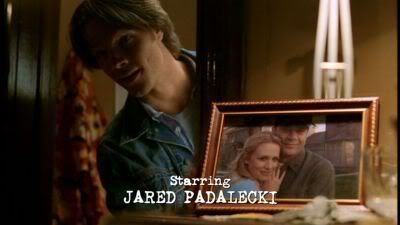 Me On Initial Viewing: I love this show.
This recap could probably use a little more squee, couldn't it? Sorry, guys, I guess I'm just revving up? I'll try being a bit more hyper *channels inner-squeegee*
OKAY, so Jared My Love's girlfriend is dressed up as a Nurse Hooker and is making Jared My Love go out for Halloween against his will. Which, not nice, but then again, who doesn't like Halloween? Oh, right.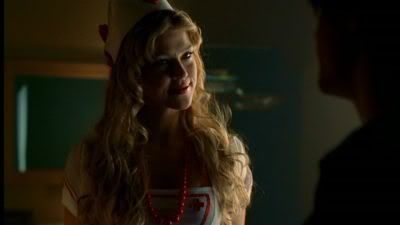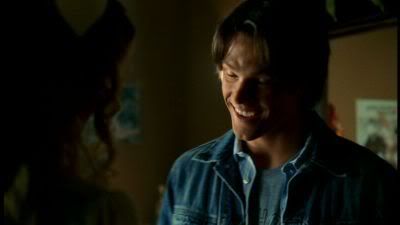 LOL I CAN SEE PADFOOT DOING THIS SCENE TOTALLY HIGH, YOU GUYS.
Nurse Hooker Girlfriend, who is probably the sweetest Nurse Hooker ever, gives Sammyboy confidence about his upcoming Stanford interview. At a bar. On Halloween. While doing these: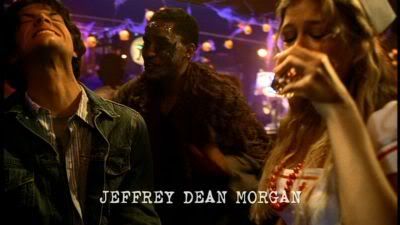 Then Sammy and JessNurse make a sloppy drunken makeout, and then Jess says THE MOST HORRIBLE THING EVER ABOUT CRASHING AND BURNING.
WHY
WOULD THE WRITERS KEEP THAT IN THE SCRIPT?!?!? BECAUSE THEY ARE SADISTS, THAT'S WHY.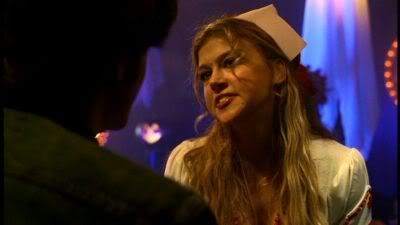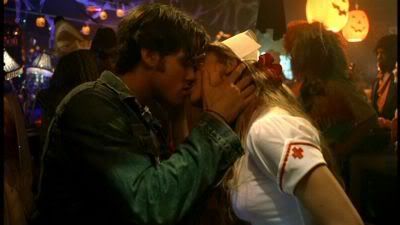 Nightime. Our hero and his girlfriend are in a drunken stupor and OMG HE'S SO CUTE WHEN HE SLEEPS.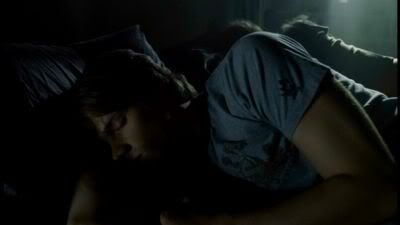 Our now awake Sammy silhouettes to the den when he hears a rumble in the jungle. And all of the sudden...SILHOUETTE ATTACK!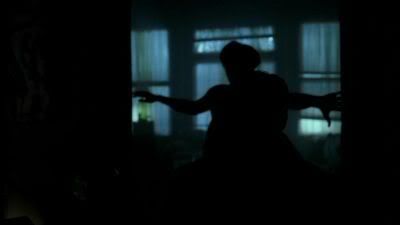 Me On First Viewing: I love this show.
First proof that Dean tops with relish: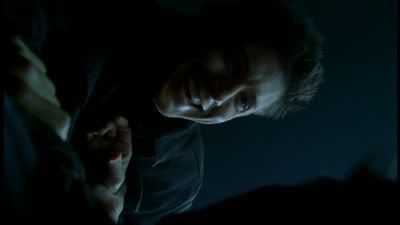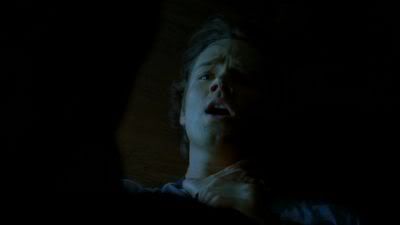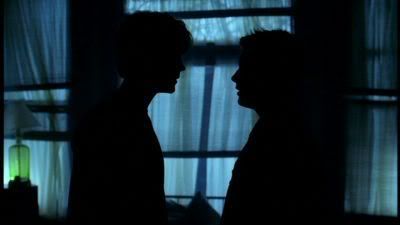 Smurfette comes downstairs and ruins all the midnight fun. But we get our first good look at Dean, so I'll let it pass.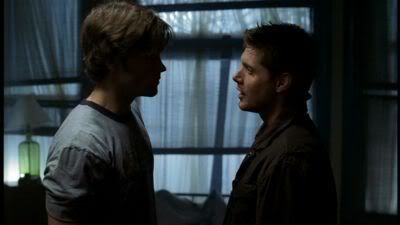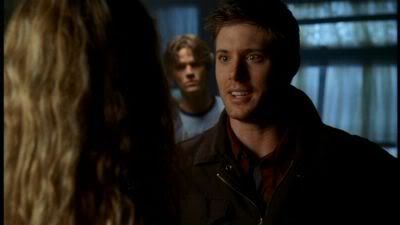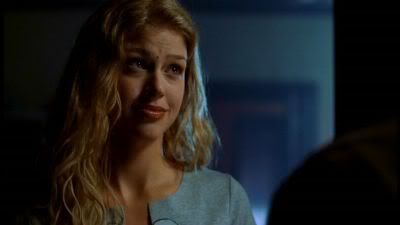 How is he the cutest skeeve alive? The first thing he did on this show was hit on his brother's girlfriend, but we still love him.
STAND BY YOUR MAAAAAAN.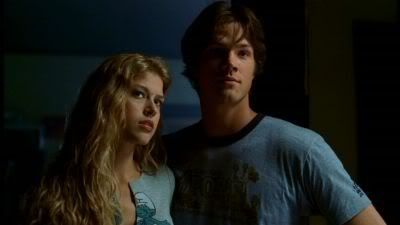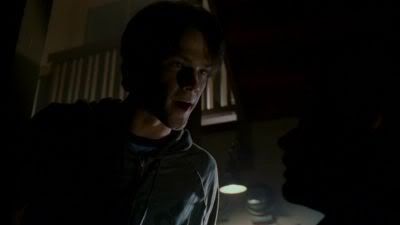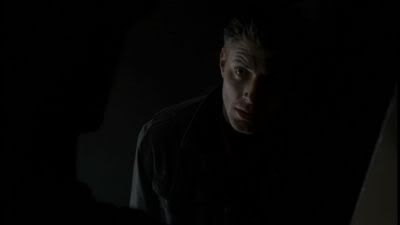 Sammy: Exposition, exposition.
Deanbaby: Exposition exposition.
Sammy: Exposition.
Deanbaby: Daddy's gone.
Sammy: Exposition!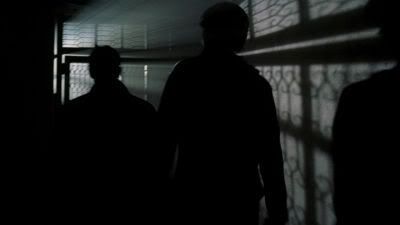 Deanbaby: Silhouettes!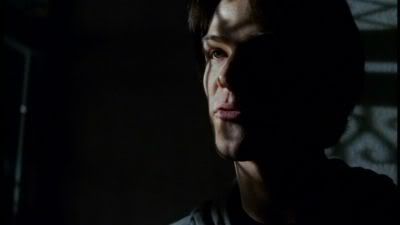 Sammy: I HATE YOU STFU ABOUT THE SILHOUETTES, OKAY? IT'S NEVER GOING TO HAPPEN.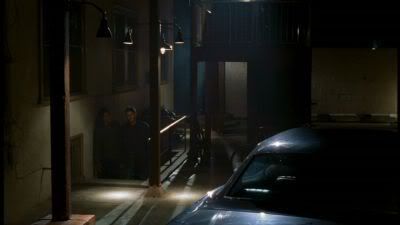 METALLICAR!
And thus the whole cast for Season One has been introduced.
This is the part where we learn that Jared My Love is Emo: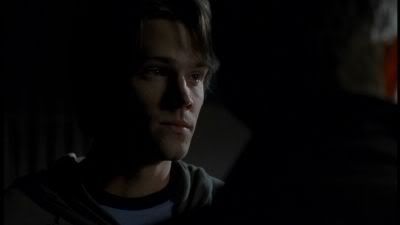 WHATCHU GONNA DO WITH ALL THAT JUNK?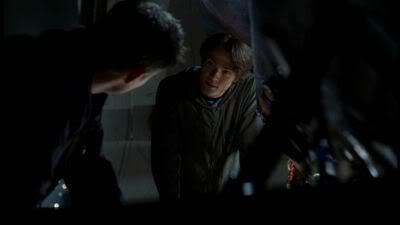 ALL THAT JUNK INSIDE THAT TRUNK?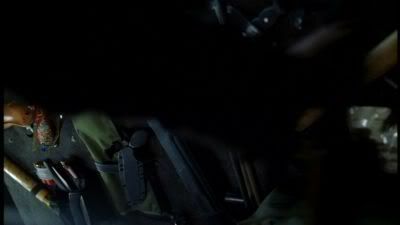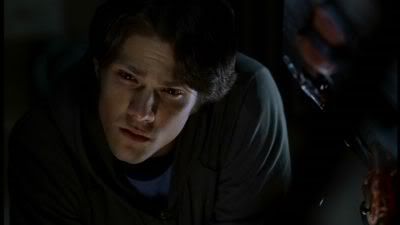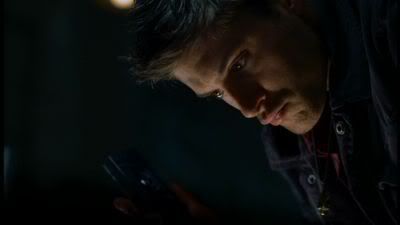 They are
so
flirting. This is how the Winchester "reacquaint".
Dean: So, you want me to show you my other EMF meter?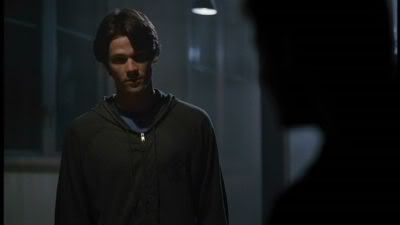 AHAHAH, okay, so there's no screencap of it, but I'm pretty sure when Sammy goes: "It's my whole future
on a plate
," he actually feels the need to make a plate out of his hand and point to it. This is a prequel to the "philosophically pondering" fiasco of Phantom Traveler.
OMG I HAD SO MUCH WRITTEN AND THAT STUPID POLL RUINED IT ALL. I CAN TELL IT'S NOT GOING TO BE AS FUNNY ANYMORE.
Okay, so we're in pre-kaboom Jericho.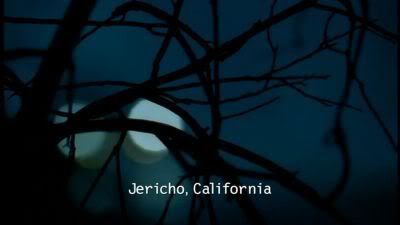 And we see our Second White Nightgown of Doom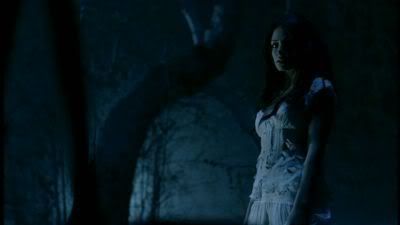 Which, okay, HOT. I want to be her.
Despite her flickering body, Idiot Boy Whose Demise is Imminent still lets her in the car.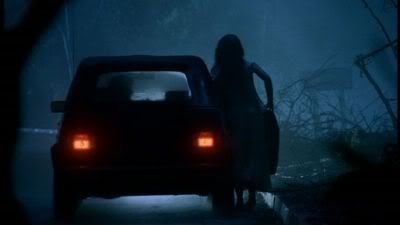 Okay, she's like touching herself, and it's supposed to be all ~*~sexual~*~, until he drives her to a decrepit house that she calls "home" and she vanishes. When he goes to follow her, he (and the rest of us) get scared to hell by bats.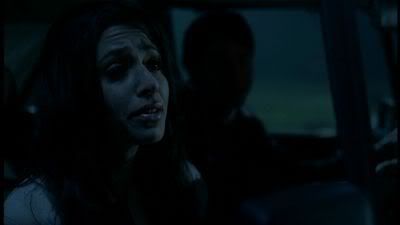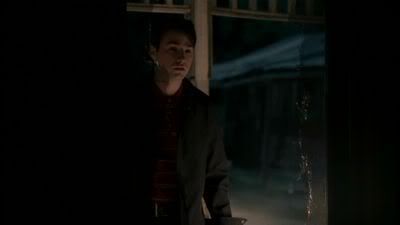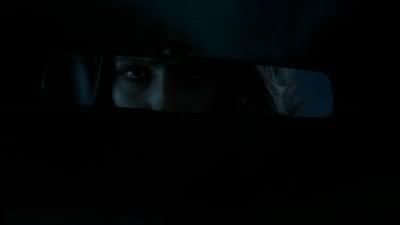 CREEPTASTIC.
I also really like the windshield/hand affect, but it's so dark that you probably couldn't see it in a still anyway.
And then come the worst special effects ever known to TVkind.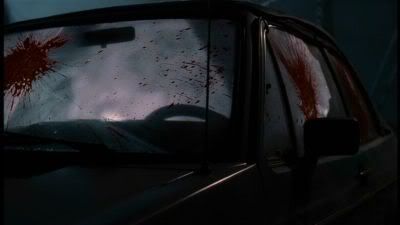 Now we're in daylight again, and "Ramblin' Man" is playing. Dean offers Sammy some junk food (Dean: 1, Sam: 2983470923840) and cons his way into filling up the gas tank.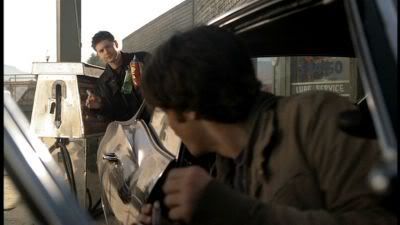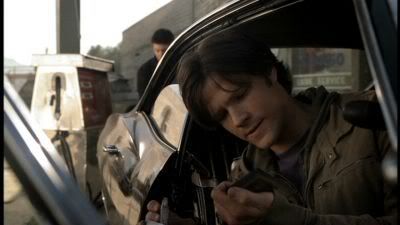 Samster: Dude, you
gotta
update your cassette tape collection.
Dean-o-rama: Why?
Samurai: Well, for one, they're
cassette tapes
. And two: Black Sabbath, Motorhead,
Metallica
? They're the greatest hits of mullet rock!
Deanmonster: House rules, Sammy. Driver picks the music, shotgun shuts his cakehole.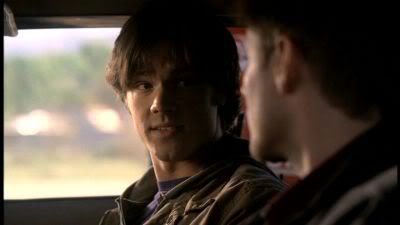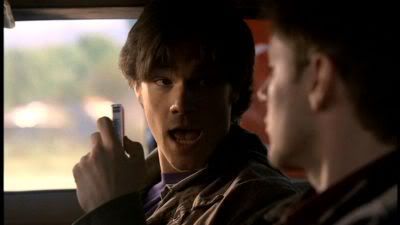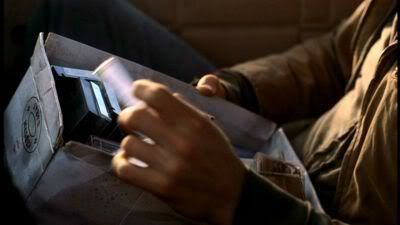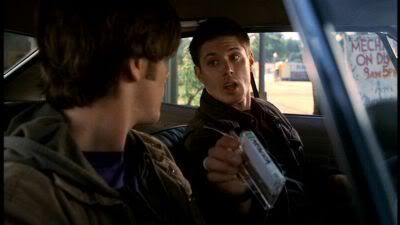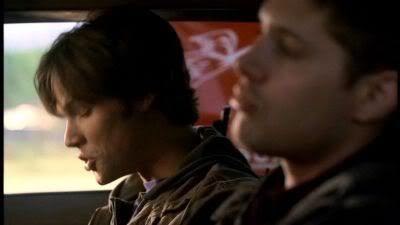 HEE!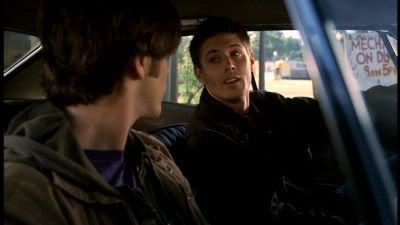 I love how I do not even make this shit up.
The Bridge of Joy and Wonder.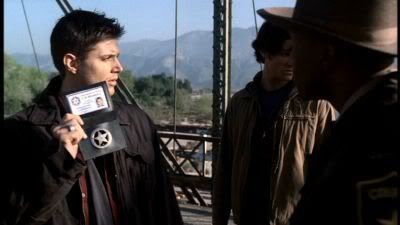 Policeman: Blah blah blah. Small town. Blah blah blah. Recent murders the exact same way. Blah blah blah.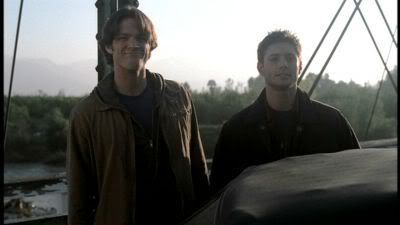 He's such a goofball!
Attempted Kiss
#2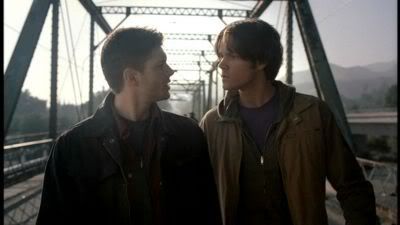 But they're cruelly interrupted by Agent Mulder and Agent Scully.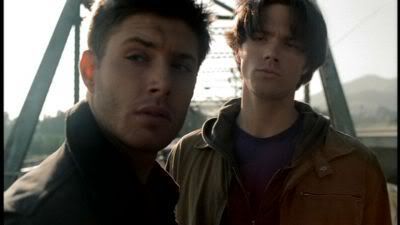 The Town That Looks Strangely Like Vancouver:
Goth Girls
#1
+2 are putting posters up for their friends and get sidetracked by the Pretty.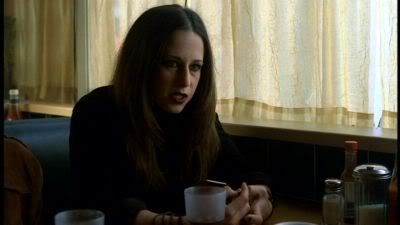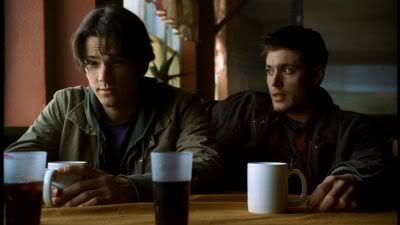 Oh, COME ON. If that's not an eyefuck, I don't know what is. There's even tongue!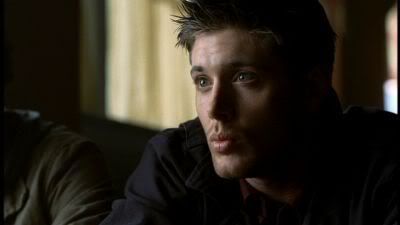 Ducky Lips!
So, plotwise, the Spirit of the Week is the Woman in White, which I'd kind of heard of before, but didn't know much about, so I was glad we moved onto the library, and Sammy got all thinky.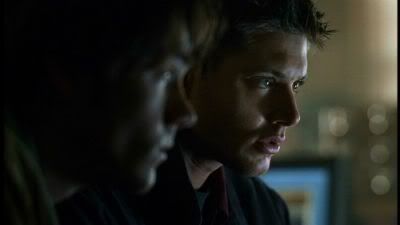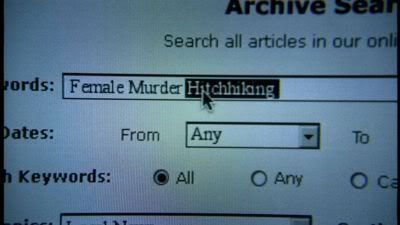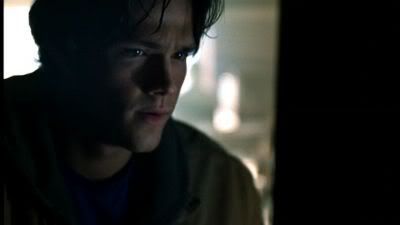 It's like "So Weird"! I absolutely loved that show!
What Show Does the Pilot Remind You of?
So they figure out that the HoSlutBaginWhite, whose actual non-stripper name is Constance, drowned her kiddies in a bathtub twenty years ago, and then the two wisely go investigate that bridge where a bunch of people were brutally murdered.
Hotass 1: Blah blah, interview with Stanford.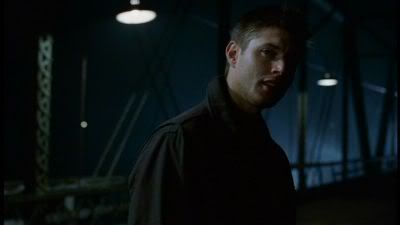 Hotass 2: Blah blah, does Jessica know?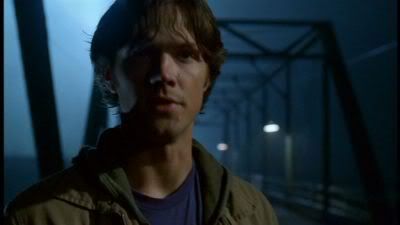 Hotass 1: Blah blah, no! And she'll never find out.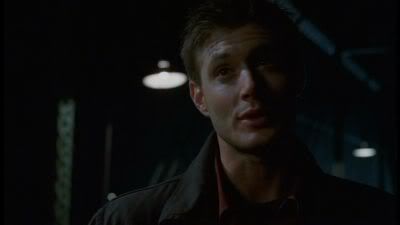 Hotass 2: Blah blah, well that's healthy.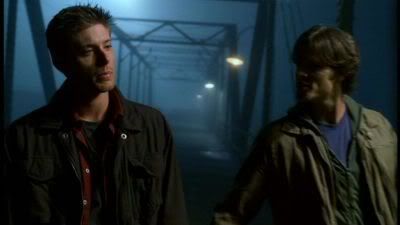 Hotass 1: Blah blah, I'm not helping Dad on his "crusade".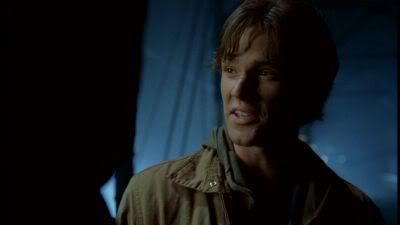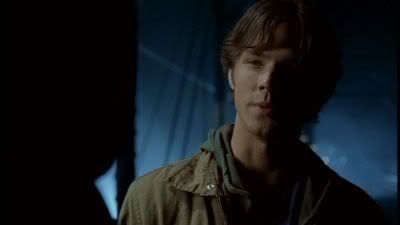 Hotass 1: Blah blah, if it weren't for pictures I won't even know what she looks like, because she's
dead
.
Attempted Kiss
#3
Seems like Dean's getting a bit impatient for it.
Too bad they're interrupted again by this: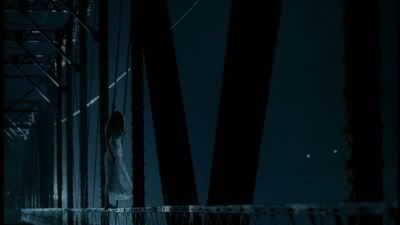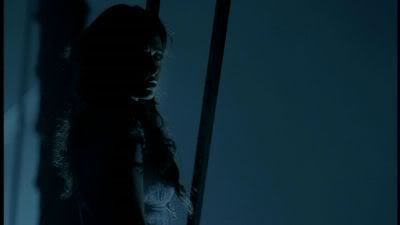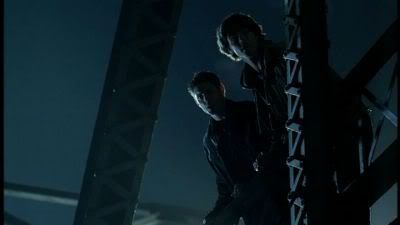 The following needs no words: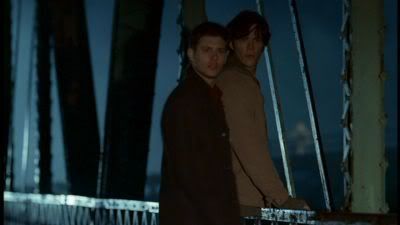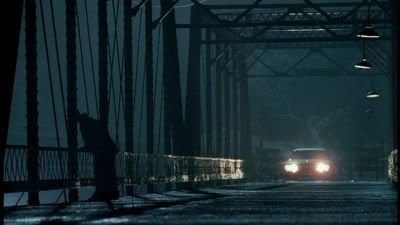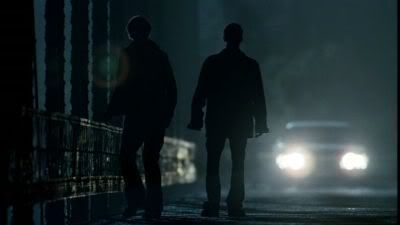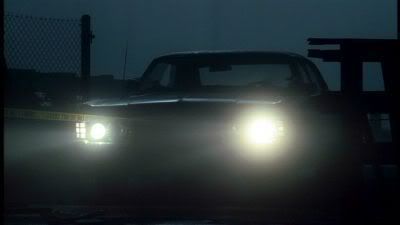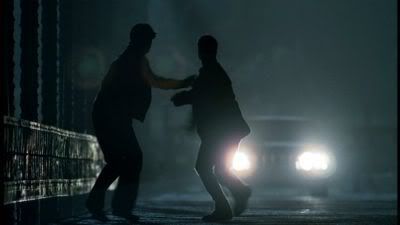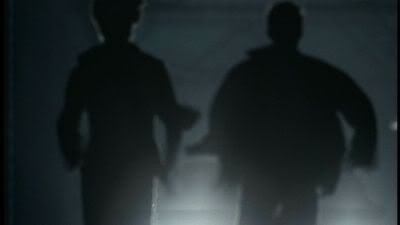 *jumps*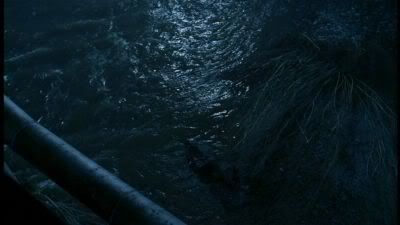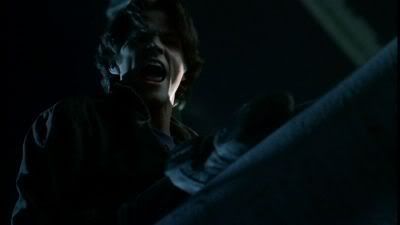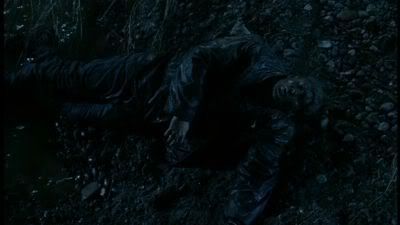 Me on First Viewing: I LOVE this show!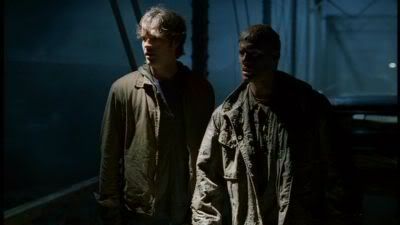 "That Constance chick, what a BITCH!"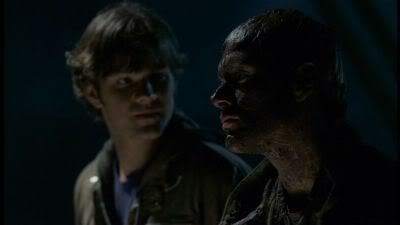 "You smell like a toilet."
HEE! It's the simple pleasures in life.
So Smarty McGee and his stinky brother Muddy McGee check into a motel, that happens to be the
exact same hotel
that they're father, Asshole McGee, rented a couple of days ago.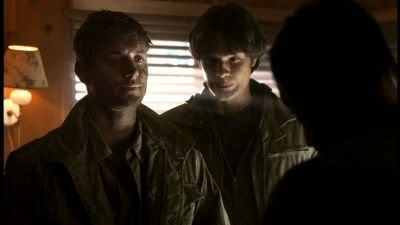 OMG SAM'S FACE, THAT MAN IS SO ADORKABLE.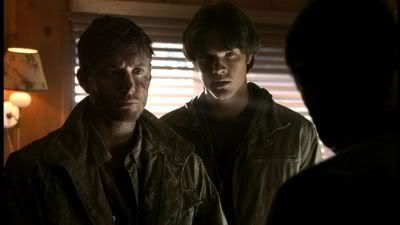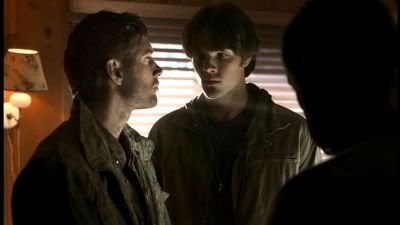 For some reason, I'm insanely in love with this little five second clip: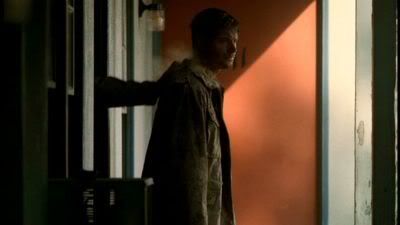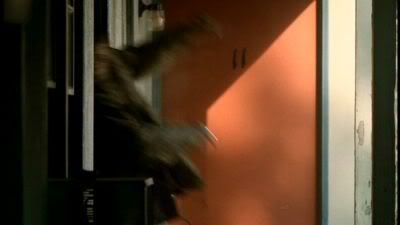 Okay, so inside the motel room, they find the Magical Candy Mountain Chest of Wonders Spelling Out Exactly What They Need To Do. Basically, Dad's journal and the answer to their problem, namely: Constance is a Woman in White. Which means all the guys she's killed have been unfaithful.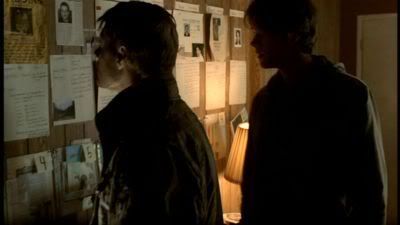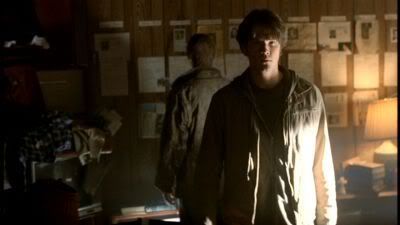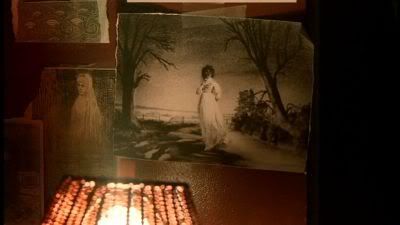 Sammybear tries to apologize for the fact that he pointed out that their mother was dead and not coming back from said deceasement, but Deanzo cuts him off with "No chick flick moments" and they end the little argument with a friendly "Jerk." "Bitch."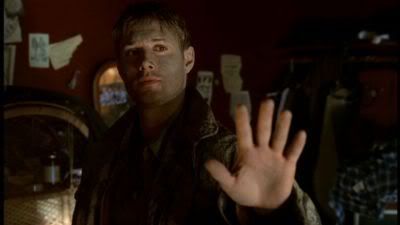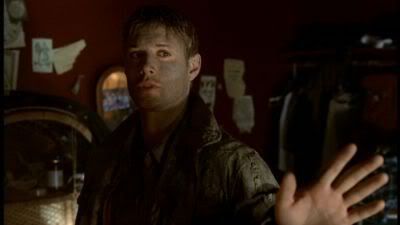 Dean-I-Don't-Care-He's-Hot-Okay? gets cleaned up and goes out for food while Sam-I-Don't-Care-He's-Cute-Okay? listens to a message from Jess on his phone. As soon as Dean's outside though, he realizes that somethings amiss.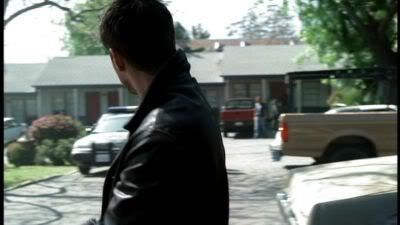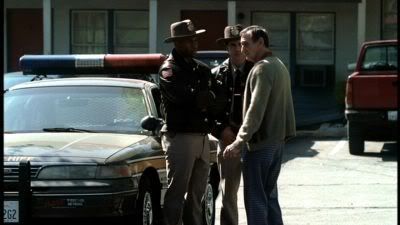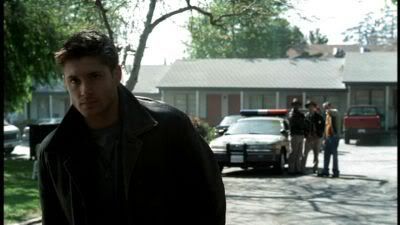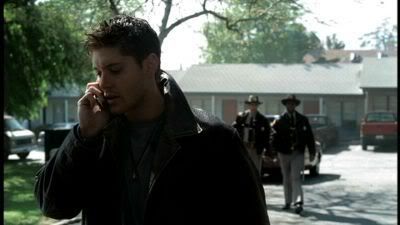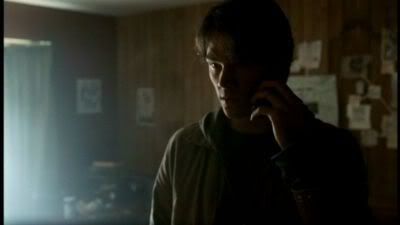 Dean: Dude, 5-0, take off.
Which..WHAT? I don't even know what 5-0 means, and they never use it again.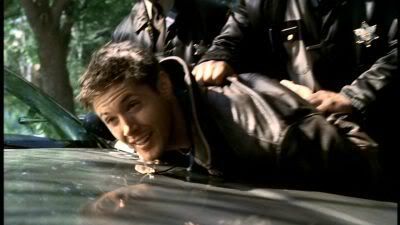 It seems like Dean-o likes the prospect of getting buttraped. Take notes, Sammy.
Okay, so this is when Dean gets handed Dad's journal (sorry, I was mistaken) and then we travel with Samwise to Constance's husband who is guiltier than a dark chocolate crepe smothered in whipped cream.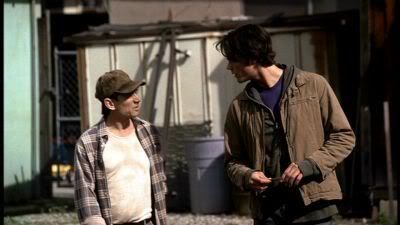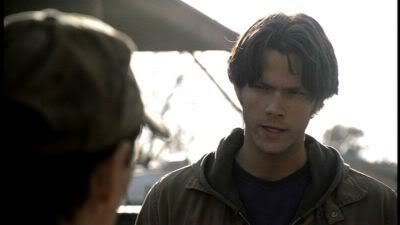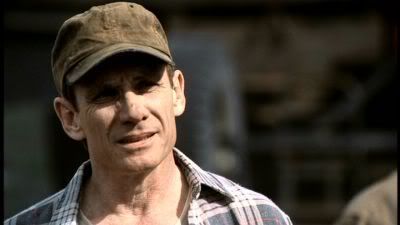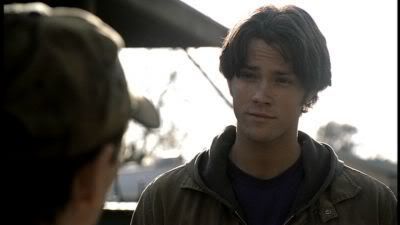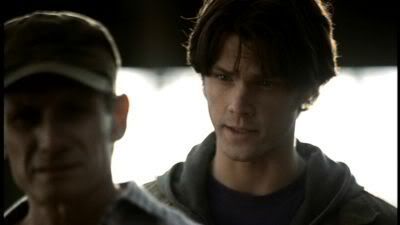 So then Sammy calls in a fake emergency at the police station, and Dean takes a clip from Daddy's journal and McGyver's his way to freedom. (Dean: 2, Sammy: 23098420398423)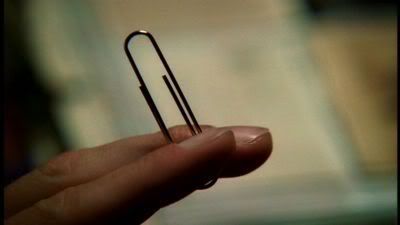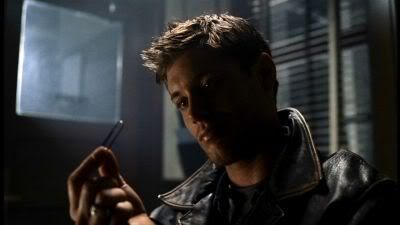 When Dean escapes, he calls Sammy from a phone booth, and they discuss that fact that Asshole McGee is obviously not there anymore because he doesn't go ANYWHERE without his journal, and also that he left co-ordinates for Dean.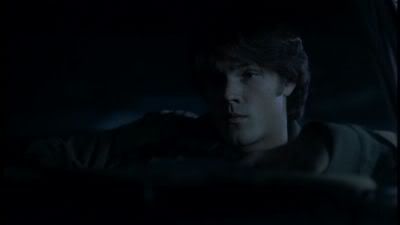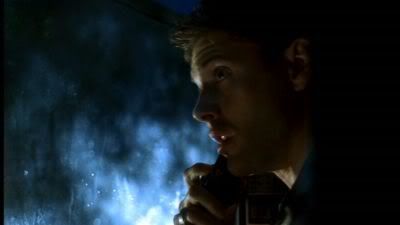 And THEN, while Sam is driving the Metallicar, HoSlutBaginWhite appears in the FREAKIN' MIDDLE OF THE ROAD AND SAM DRIVES RIGHT THROUGH HER OMGOMGOMGOMGOMGOMG.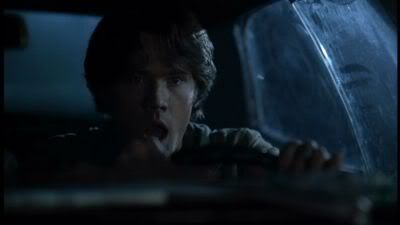 Nice "O"-face Sammy.
Now HoSlutBaginWhite is in the backseat.
HoSlutBag: Take me home
Sammyboy: No.
So HoSlutBag commandeers the Metallicar and revvs off with Sam inside.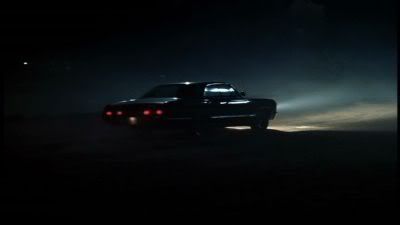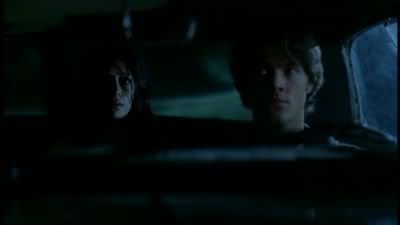 HoSlutBaginWhite realizes that she can never go home
again
(really, how dense is she?) so she decides to rape Sammy instead.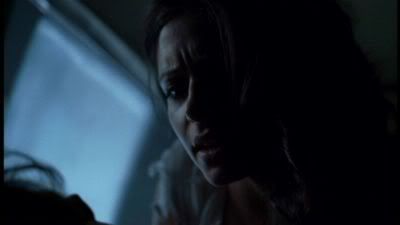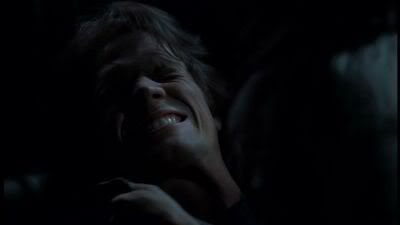 I was actually kind of hoping for a Sam/ghost sex scene here. He can't kill what's already dead, right? But Sam refuses to listen to my reasoning, and proves faithful to Jess.
HoSlutBaginWhite kisses him anyway, and then Dean blows a cap in her face. Which, a) how the hell did Dean know where Constance lived, and b) how'd he get there so quickly on foot? Whatever, he saved Sammy.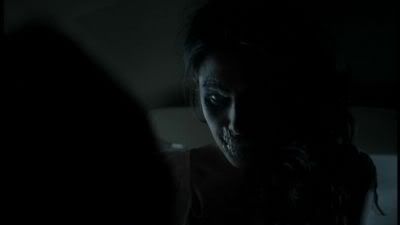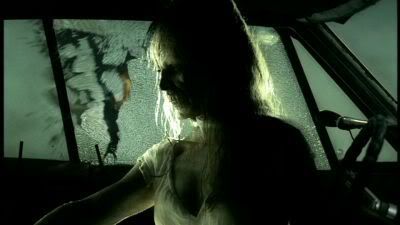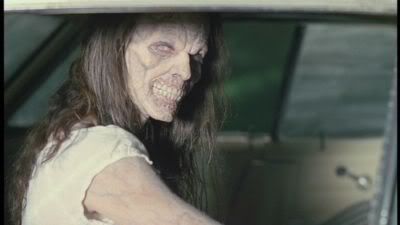 Lovely.
Sammy makes the wise decision to take FreakyFacedHoSlutBaginWhite back inside her house one.last.time. ROOOOXXANNNE...sorry.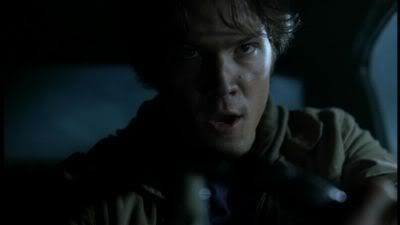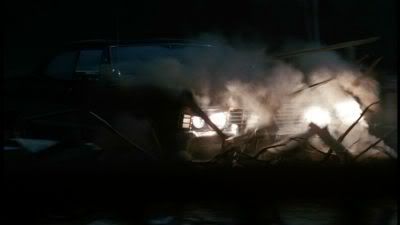 So now FreakyFacedHoSlutBaginWhite's children can get to her and they're DRIPPING WET AND IT'S ENTIRELY FREAKY OKAY? IT REMINDS ME OF "SO WEIRD" AGAIN.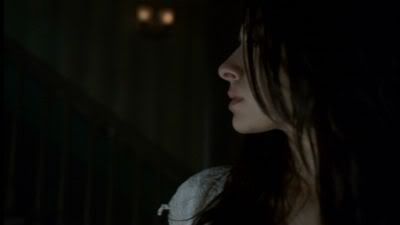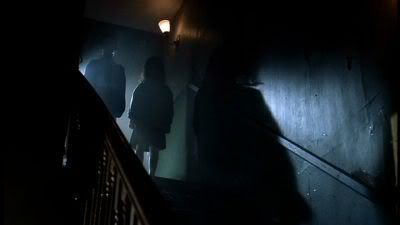 And then her own children kill her, providing the first example in the series of how adolescent children are the spawn of all evil.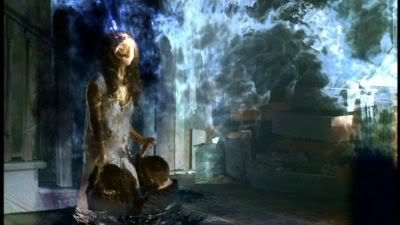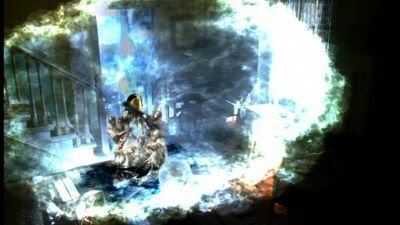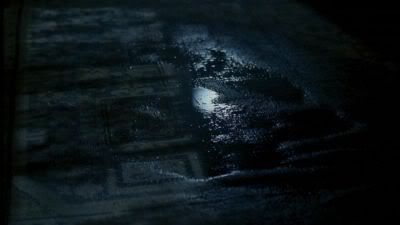 Me On First Viewing: I LOVE THIS SHOW.
The Hardy boys have been watching this entire time, (they were pinned behind a desk? IDK, I skipped that part) there's a little talk of "weak spots" and then Sam just asks: "What were you thinking shooting Casper in the face, you freak?"
asudfoawuefowieajfweoaij
To which Dean responds: "Hey, saved your ass!"
lsakjdfiowjefo;aiwjfo;eawijfo;awie
But OH NO, the show's not over YET.
The boys drive back to Stanford, and bid a fond farewell, knowing full well that they probably won't see each other for another two years.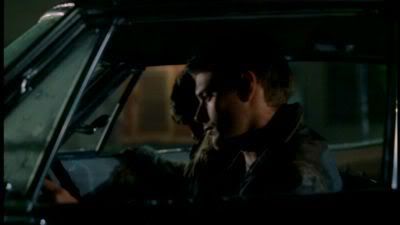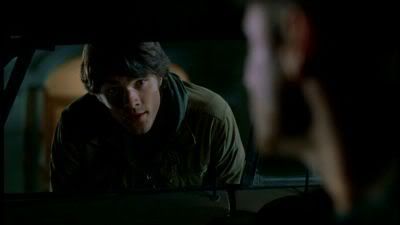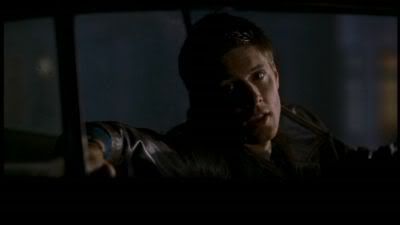 Sam enters the apartment, and Jess baked Sam COOKIES WITH A NOTE ATTACHED, and the shower is on and Sam just relaxes on the bed.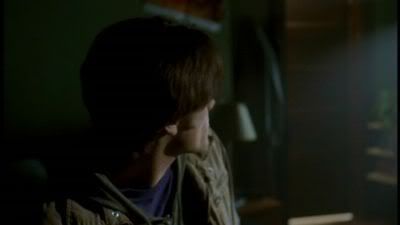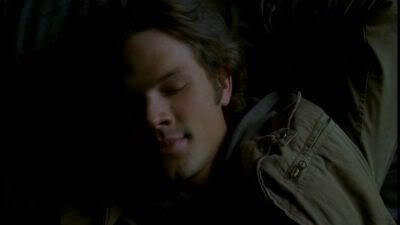 All is well with the world, UNTIL....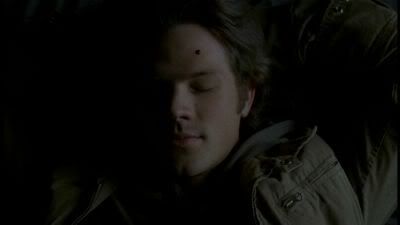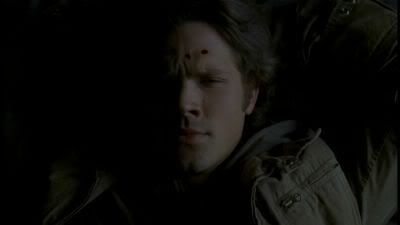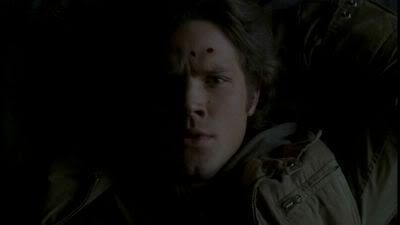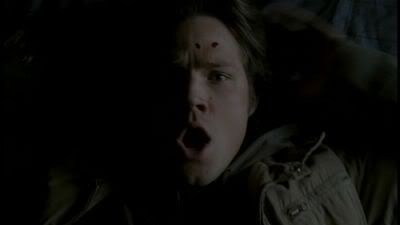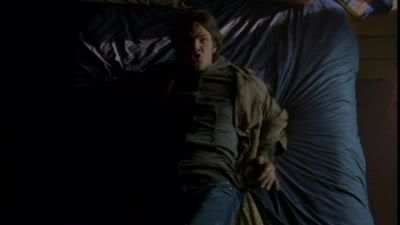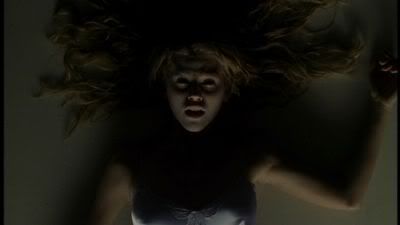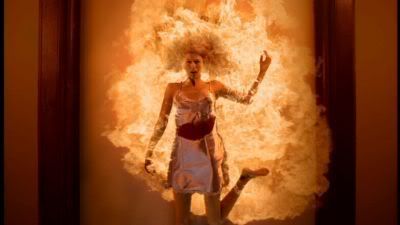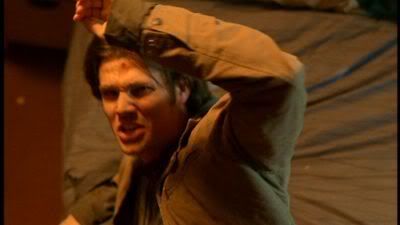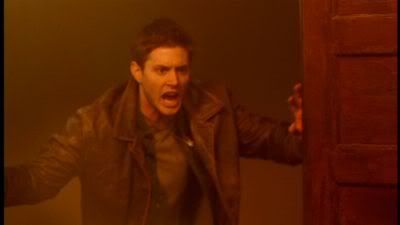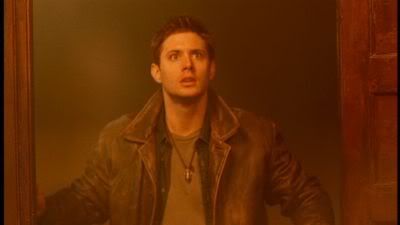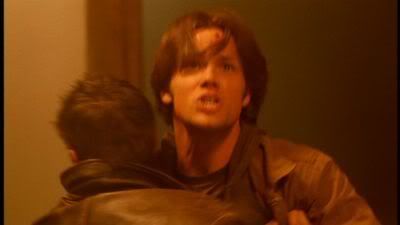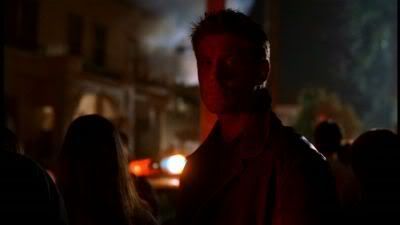 JEEZUS. *breathes* And then, AND THEN: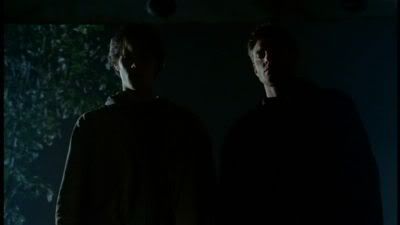 Sam:"We've got work to do."
Me on First Viewing: aoijfdo;awjefo;wjieafwe I FUCKIN' LOVE THIS SHOW.
The End.
Okay, so since we're going to be on hiatus for a while (I
Current Mood:

excited