A Very Supernatural Christmas: Part Two
So they go stake out the trailer at night and OMG WHY IS IT SO FREAKIN' DARK IN THESE SCREENCAPS? CAN YOU EVEN SEE WHAT'S GOING ON? THIS IS NOT NORMAL, I TELL YOU. TOTALLY NOT NORMAL.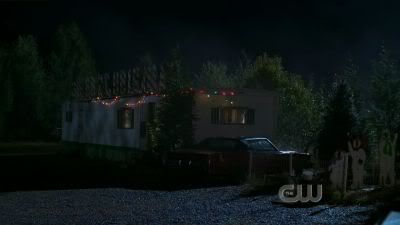 The Trailer That Can't Be Seen.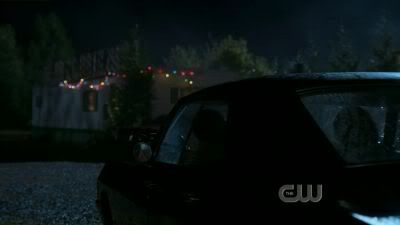 The Metallicar That Can't Be Seen In Front of the Trailer That Can't Be Seen.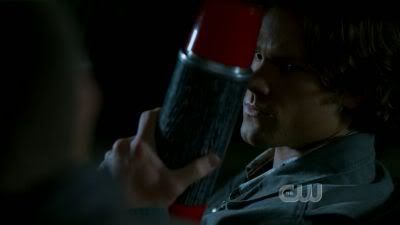 Don't drop the Spirit Stick, Sam.
Whenever I see a thermos, I think of that Clueless scene with Mr.Hall. I don't know why.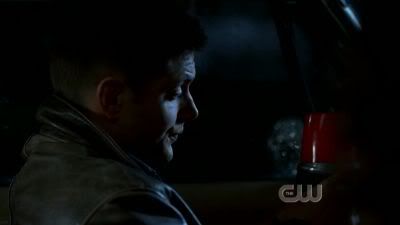 But aren't thermoses (thermi?) awesome? Like, just the way they click together and all that....I think they're awesome..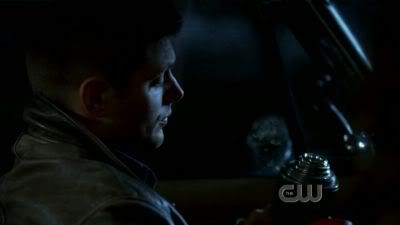 Please stop being so pretty.
The problem here is the Ackles. Just look at that lighting and that face. And OMG THOSE LIPS WHAT IS WRONG WITH HIM?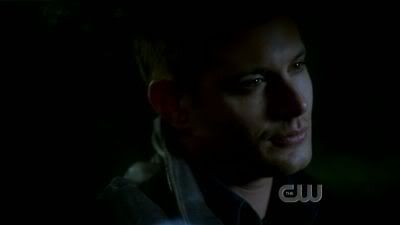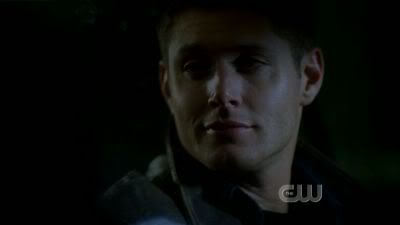 So, if you haven't noticed, I'm not paying any attention AT ALL to the plot of the scene. But it's basically along the lines of:
Dean: Why are you the Grinch, Grinch?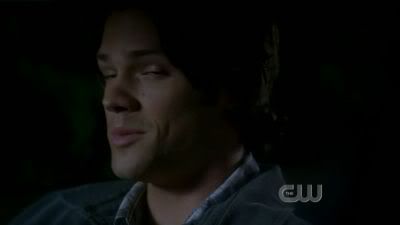 Sam: Are you kidding me? Our family kills things from hell for a living, and we're supposed to have a nice family-oriented Christmas?
Dean: We'll do it right this year.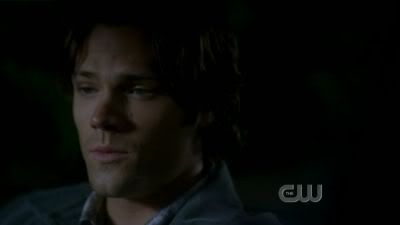 Sam: Celebrate Christmas by yourself, bitch. I'm not taking any part of your crappy holidays.
I would just like to point out that I LOVE the way Dean says 'molds'. Like, I don't know why, but everytime I watch that "Me and myself making cranberry molds" line, I get excited.
And then Skeezy McSkeezball Malcom McSkeezyDowell closes the blinds.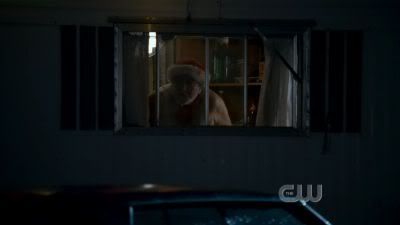 OMG IS HE NAKED? THAT'S HORRENDOUS. WHY IS HE NAKED? EW EW EW EW EW EW EW EW.
Oh nevermind. His white shirt is just
so
dirty, that it looks like the color of his skin.
I bet that mistake wouldn't have been made if there was any LIGHT in this scene.
They ~*~take action~*~ and run toward the trailer with guns out. (Don't you even try to "Dirty!" me.)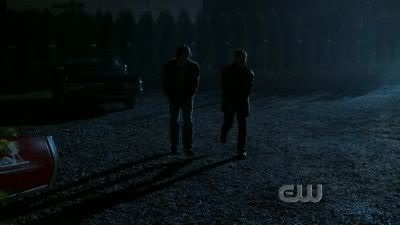 Sam mentions that Mr. Christmas Spirit is about to blow away "Santa".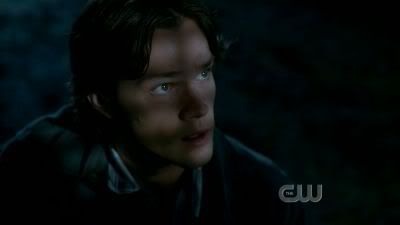 Dean: Whatever.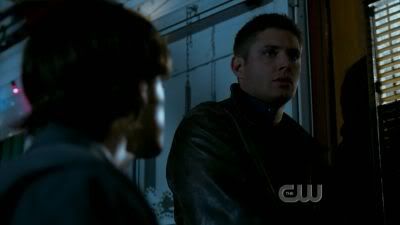 And they BUST IN. AND WHAT DO THEY SEE?!?!?!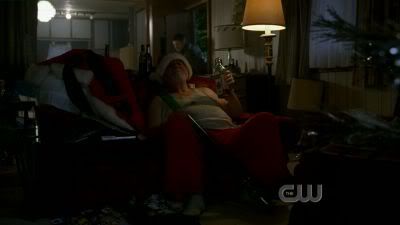 LOLOL.
Sam does this hilarious thing where his gun is out.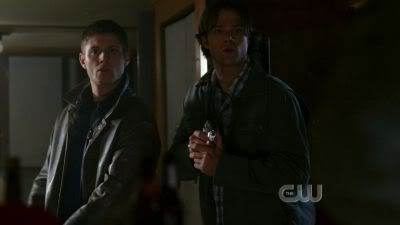 And he quickly hides it behind his back. Expression: Priceless.
You should've seen the bong, but I think the porno in the background is more important.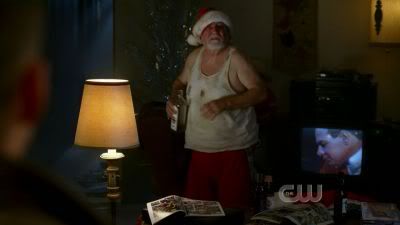 Dean: Where'd he get a that copy?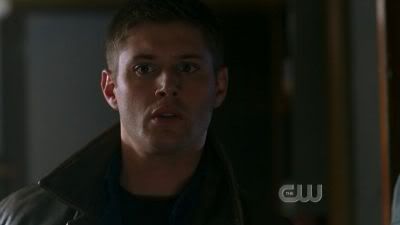 Has he been through my stuff?
Uhhhhhh.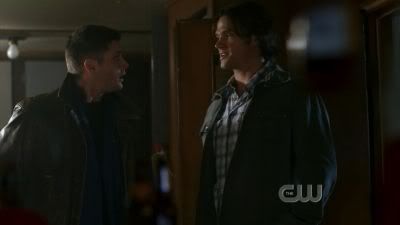 So they start singing "Silent Night" not in unison and very off-key.
But we all know that Jensen can
actually
sing.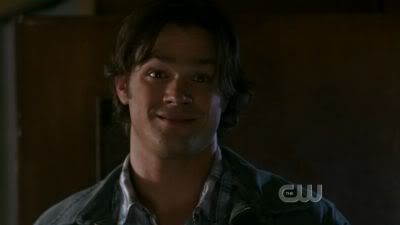 Hilarious.
Skeezey McDowell thinks so as well.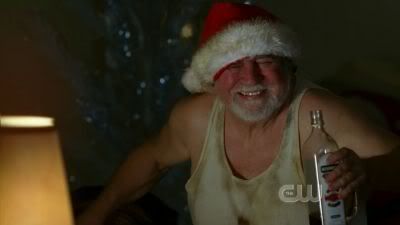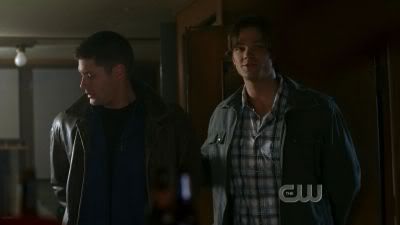 Sam: We're getting the fuck out of here.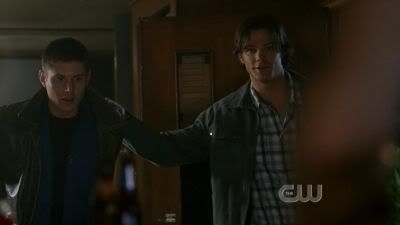 Then we move to a House of Inevitable Horror,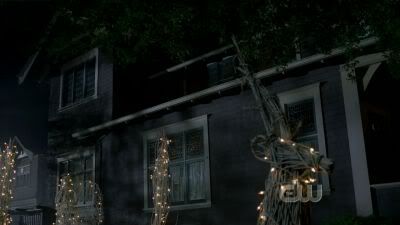 where a little Fucktard just watched while a
creature comes down the chimney
.
He just stands there, scared shitless, while a STRANGER BREAKS INTO HIS HOUSE.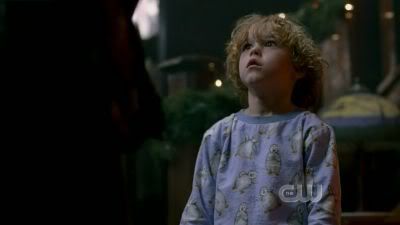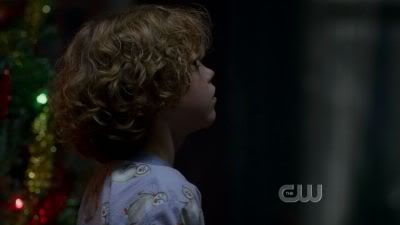 HE CAN'T EVEN SCREAM, BUT HIS EYES CAN FOLLOW THE GUY UP THE STAIRS?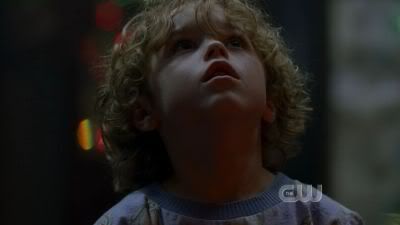 Little Fucktard.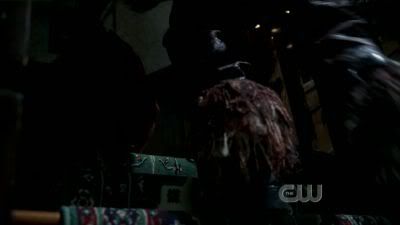 These pants are from the 70s, no? They totally belonged to some cast or crew member, and were just reworked to be slightly more demonic.
The Little Fucktard thinks they might have been yellow originally.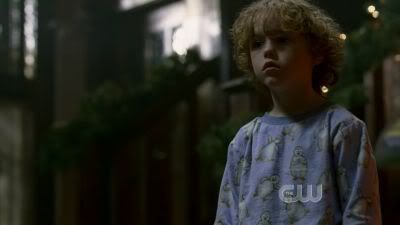 I think The Little Fucktard is right.
Mr. Demonic-Sonuvabitch takes a cookie, and vamooses.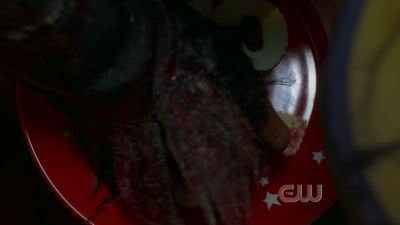 Leaving The Little Fucktard just standing there. He obviously doesn't care what happened to his mom at all, despite hearing a horrific scream from the bedroom.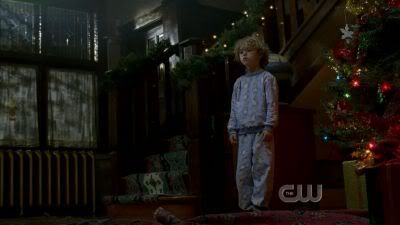 I might be a little hard on the kids this episode, true, because adults have acted incredibly stupid on this show before. But this is focused on the kids, and therefore it is the little kids I will mercilessly taunt.
Of course Sam and Dean go to investigate the ~*~Mysterious Murder Mystery~*~
Black-Eyed Susan informs them that her kid saw it all, and that she was knocked out almost the entire time.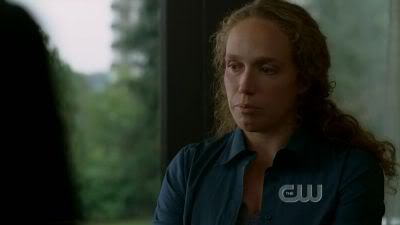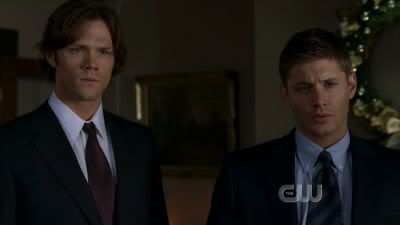 Sam asks where she got her lovely wreath.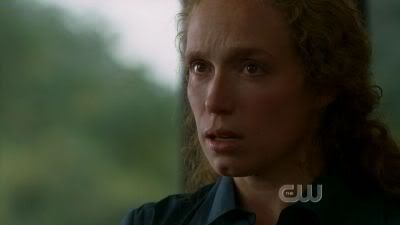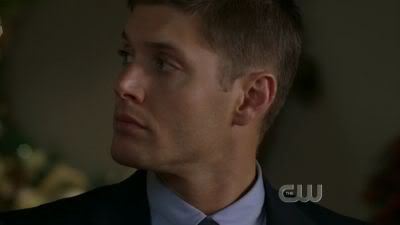 Dean: And you call
me
tactless?
Okay, here is my problem with this screencap.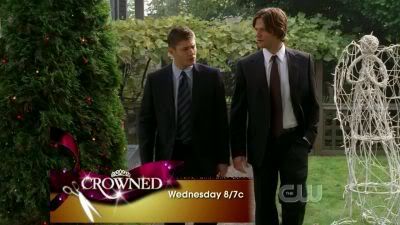 Unless Sam is getting crowned QUEEN OF THE FUCKING UNIVERSE OR BOY KING WONDER, I DON'T GIVE A SHIT ABOUT CROWNED OKAY? STOP ADVERTISING IT.
Seriously, way to go marketing skills, because the fans of SPN are
so
interested in that stuff. But do you know what makes up for it?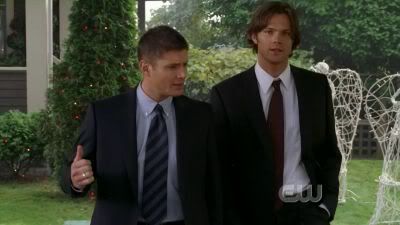 ANGELS. IN THE BACKGROUND. LOLOL I LOVE PROPS.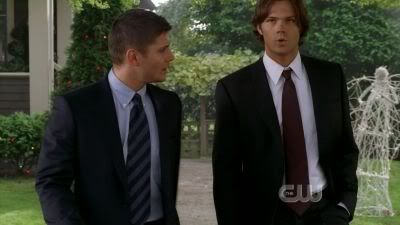 METALLICAR!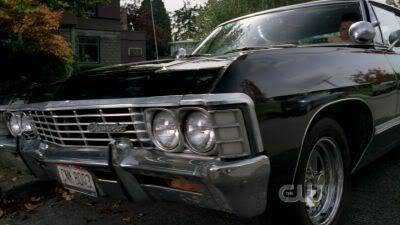 Okay, I'm done.
What I love about this is that Jared's hands are SO BIG that it doesn't even look like he's talking into a phone.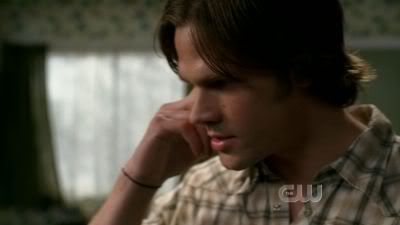 He's just talking into one of those fake hand!phones, you see?
Dean: What did Bobby say?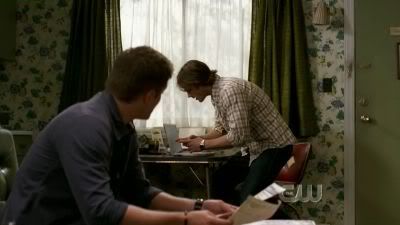 Sam: That we're morons.
TRUSTORY. I love how I don't even have to make half of these dialogues up.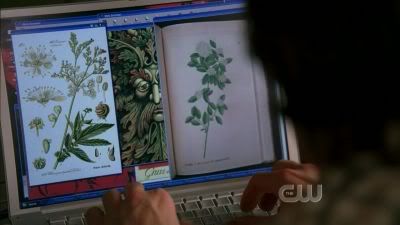 So the wreath was full of "meadow swede", which is "the most powerful plant in Pagan lore". It's pretty much like putting a sign above your door saying "Come Eat Me and Psychologically Scar Our Children For Life".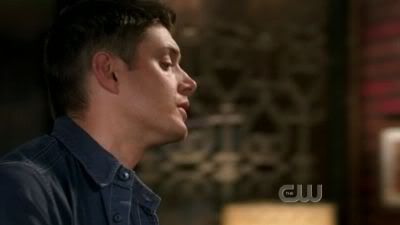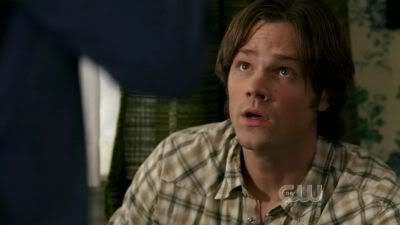 Yay! Dimples!
So now they know that they're dealing with a Pagan God, and Sam has an idea who.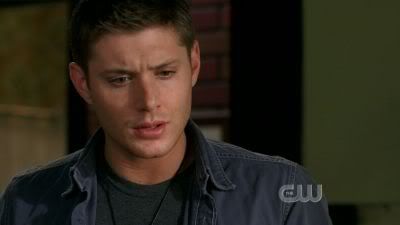 Dean is equally confused by the name, because seriously? I listened to Sam say it about five or six times, and
still
can't understand it.
In turn for human sacrifice, the God-Whose-Name-I-Can't-Pronounce brings mild weather.
Dean thinks for a second.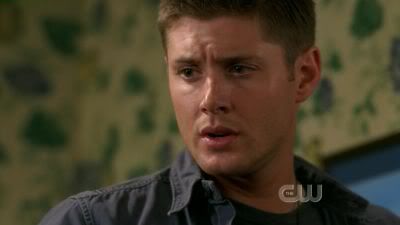 And then realizes this
might
have something to do with "no snow, in the middle of December, in the middle of Michigan".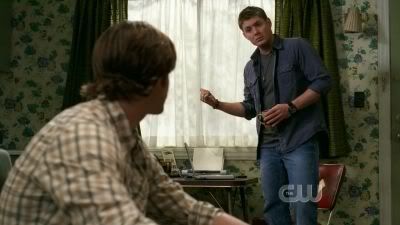 Sam's like "No shit, Sherlock". But I forgive Dean, because his first response to the question was "Lap dances, hopefully".
I love looking at Sam.
Again, nice composition.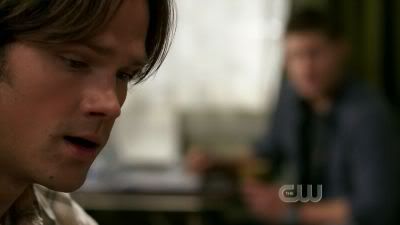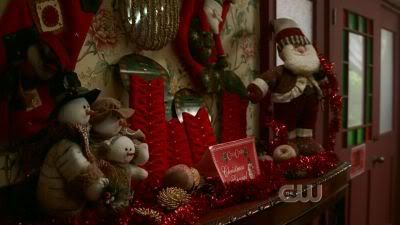 So...did you hear the one about the two antiquers who walked into the Christmas store?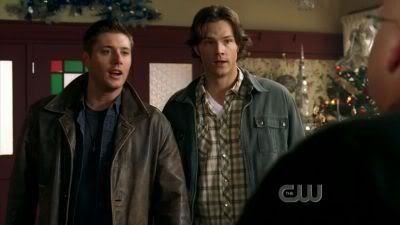 Dean doesn't even try to pretend he's not gay.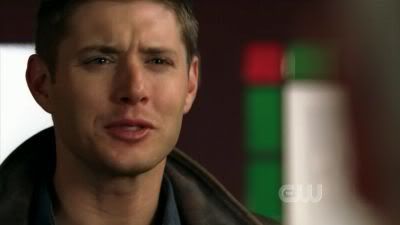 Which leads Sam, as always, to be disgruntled and uncomfortable.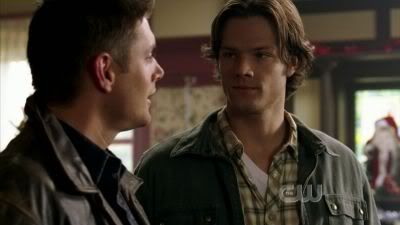 Oh man, my personal canon is that this guy is going through a mid-life crisis.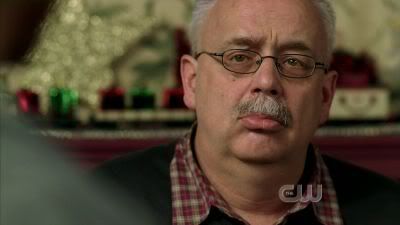 He's like, "What the hell am I doing with my life?!?"
Sam: Have you sold any yummy wreaths lately?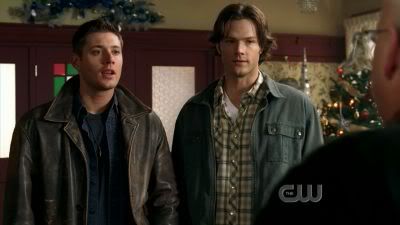 You can just hear him screaming on the inside.
OMG SAMMYBOY ILU.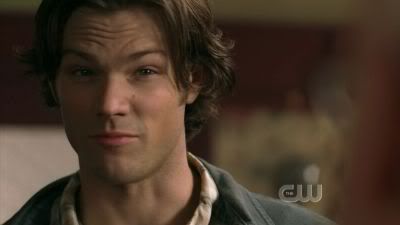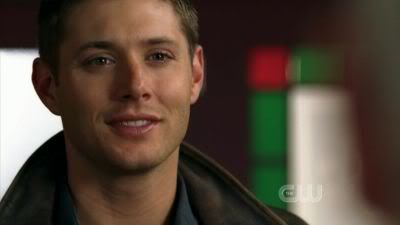 He's GOT to stop being so pretty. You know, I might have to do it..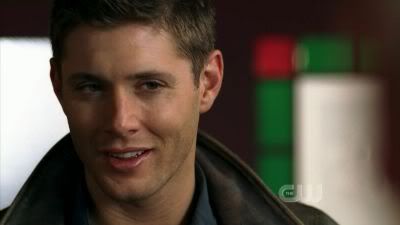 Yeah, okay, it's happening. I'm starting a "Jensen Ackles: STOP BEING PRETTY" campaign. Who's with me?
Who will join me in my "Jensen Ackles: STOP BEING PRETTY" campaign?
HELL YES. That boy is too distracting for his own good.
Ew, no. Why would we ever want to make him less pretty?
Only if Jared is included.
Sorry, what? I was looking at his picture.
You're an idiot, there's someone MUCH prettier than him that deserves to be part of the campaign.
That poor, poor fellow.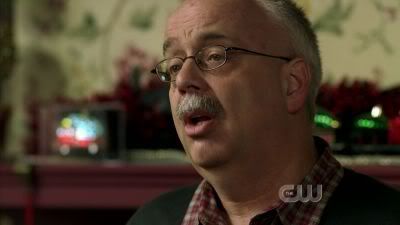 He drops the name "Carrigan", says she gave the really expensive meadow swede wreaths for free, and that he's selling them at expensive prices.
Back at the motel.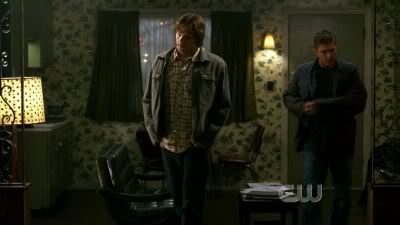 TAKE IT OFFFFFF!!!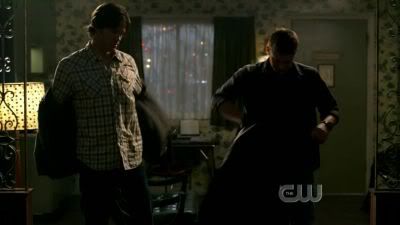 Yeah..sorry. It had to happen.
So, I know this is like, the emotional climax of the episode and everything, but here's what I think is really going on.
Samurai: Hey, Dean?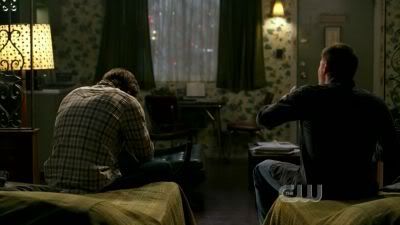 Deanmonster: Yeah, Sam?
Samurai: Do you think Jim and Pam will ever get together?
Deanmonster: Are you kidding me?
Samurai: I'm actually really worried.
Pam's even back with Roy.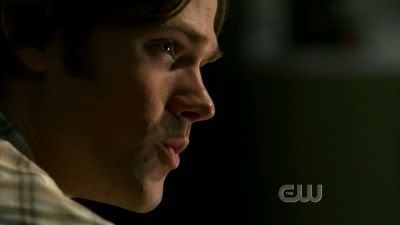 Deanmonster: There's no way they're not hooking up.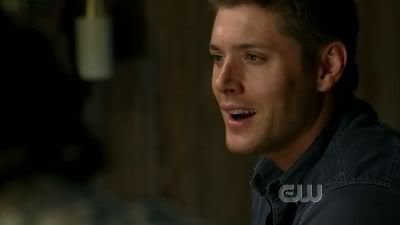 Deanmonster: We've just gotta catch up on the third season.
Samurai: Yeah, it's too bad we don't have Netflix.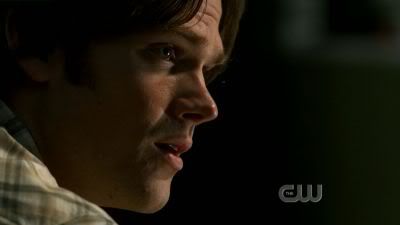 Deanmonster: Blockbuster is okay.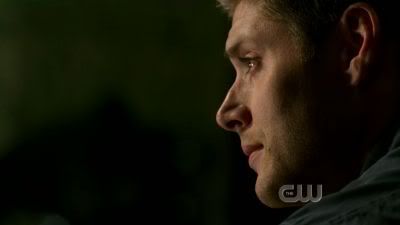 Samurai: He's just so sweet. Like how he made her that teapot? And she called off her wedding for him!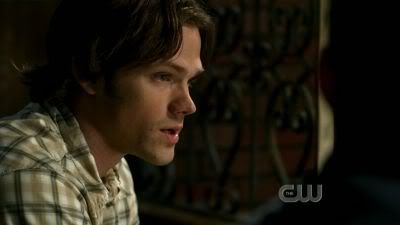 Deanmonster: Sam, are you okay?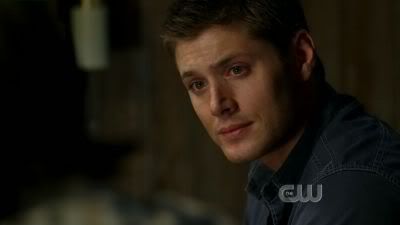 Samurai: It's just so hard to find true love in this day and age.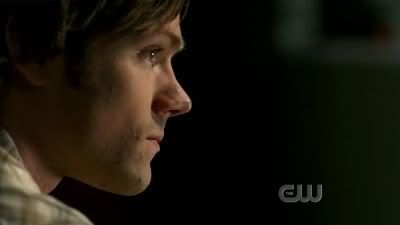 Deanmonster: You'll see, Sam.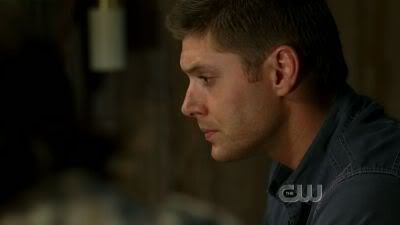 You'll see.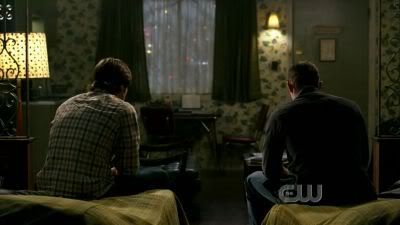 What the writers wanted us to
think
was that Dean and Sam are at odds about Christmas, because it's Dean's last year, so of COURSE he wants his last big holiday. Sam doesn't want to celebrate and pretend that everything is okay when it's not, which is understandable. They're also on different beds not facing each other, which is ~*significant*~.
Flashback.
Deanster comes back providing dinner.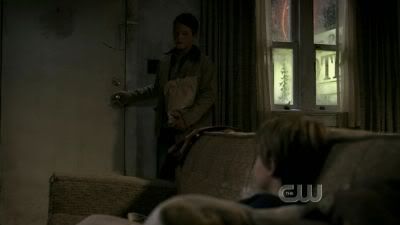 He's such a sweet older brother.
He tosses Little Sammy EmoBangs some probably inedible thing and then a bag of Funyuns which he calls "vegetables".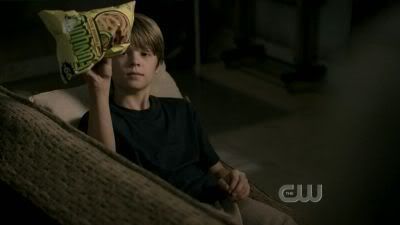 Hopefully he was being sarcastic, but knowing Pa Winchester...
Little Sammy EmoBangs gets up and walks over to Deanster, claiming that he knows why Deanster keeps a gun under his pillow.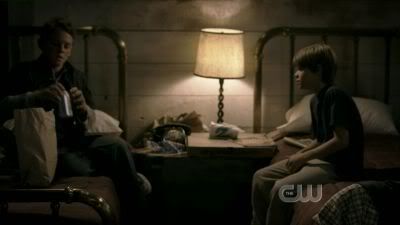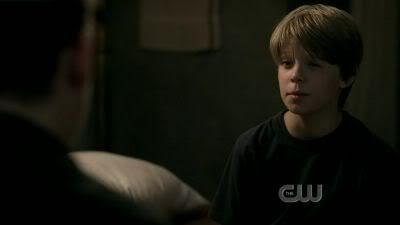 "Shut up, no you don't!"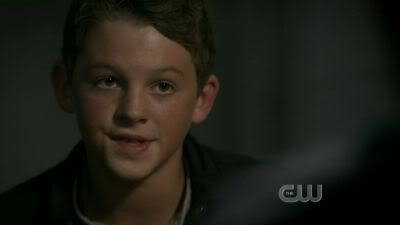 "I also know why we put salt down everywhere."
"Shut UP, no you DON'T!!"
Little Sammy EmoBangs then reaches under his motel mattress and reveals that he has been reading Dad's journal.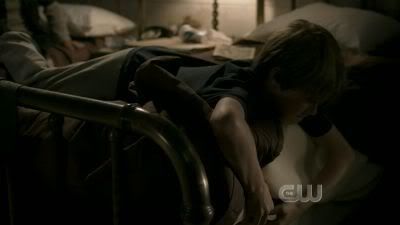 I know it seems like common sense, but I think it's a really nice touch that the journal is considerably thinner.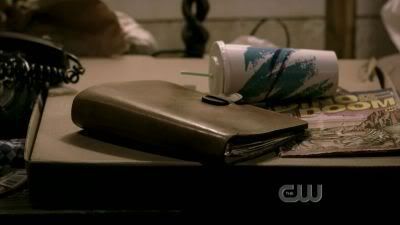 Little Sammy EmoBangs demands to know the truth.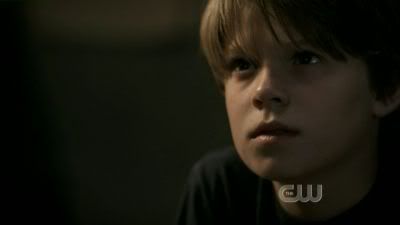 And, like always, Dean caves in to the Emo Eyes.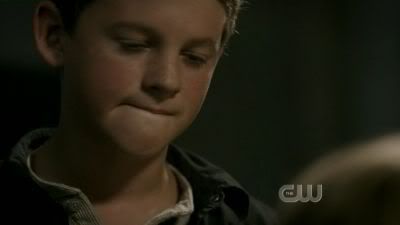 He starts off by saying that they have the "coolest dad in the world".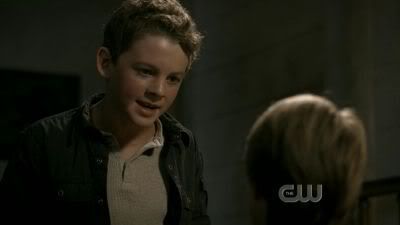 Yeah, alright. You keep on thinking that until he starts treating you more like a soldier than like a son.
They're on separate beds again.
But
now
they're together, on the same bed. Do you see it? Do you?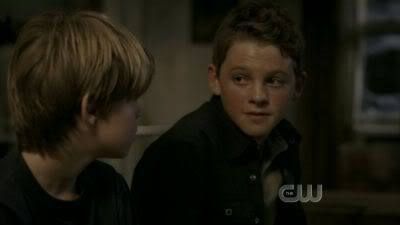 As Dean breaks Sam's heart by telling him that monsters are real AND that Santa doesn't exist
in one night
, Sam gets worried that the monsters will get Pa Winchester and then them because "they" got mom.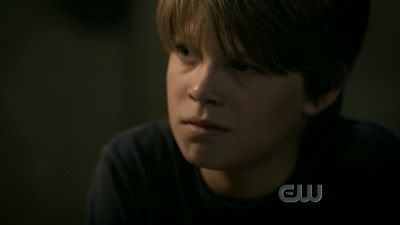 Sam's emo-ness finally takes over, and he starts to outright cry, but like, who can blame the kid?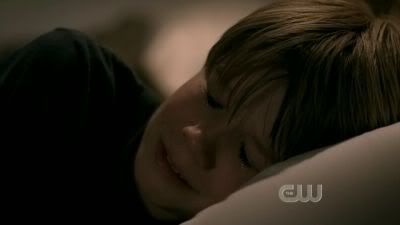 Dean promises that it'll all be better when Sammyboy wakes up, as we return to the present.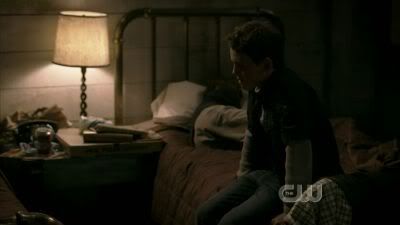 More Metallicar, whee!
The boys are walking toward what is apparently Candyland.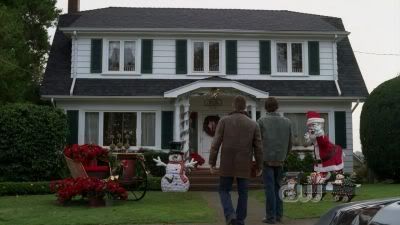 Meet Midge Carrington.
She's amazing.
She acknowledges that she was the one who made the wreaths out of meadow swede.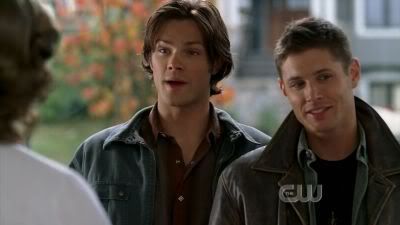 The rouse the boys pull is that they were hoping they could get another wreath from her made out of meadow swede.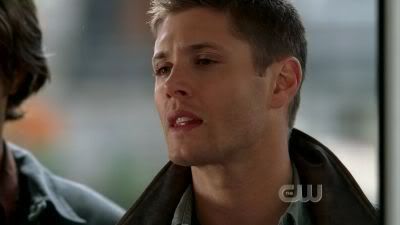 But she comically laments (it wasn't comical what she said, but the faces she made
while
she said it were comical) that those were the only ones she made this season.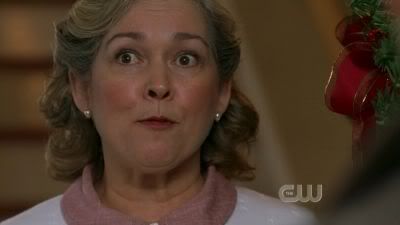 Dean then asks why she made the wreaths out of meadow swede.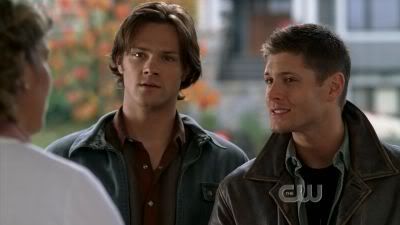 "To eat people, of course! Didn't you know I'm a Pagan God?"
Nothing much else in this scene matters except for these faces: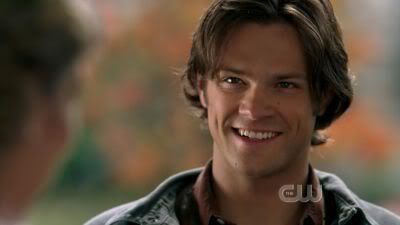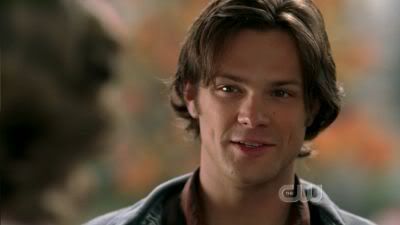 Dean takes a takes a peek inside, but unfortunately there are no screencaps of this. Strike Two for the screencappers! Let's just say that I totally love the Props Department even more.
And THEN, down comes the husband, in a brown cardigan, carrying a corn cob pipe. And a button nose. And two eyes made out of coal.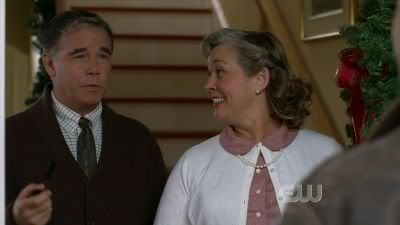 He says: "Those wreaths are fine. Fine wreaths."
So obviously, Sam and Dean have to go back to the motel to sharpen their stakes. (Shut up, it's this show that's making say dirty things!)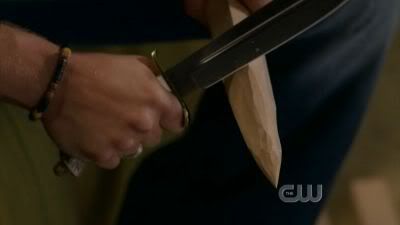 I love the fact that although there's a trashcan right by Dean's legs, all the wood shavings fly all over the place. NOT ONE lands in the trashcan.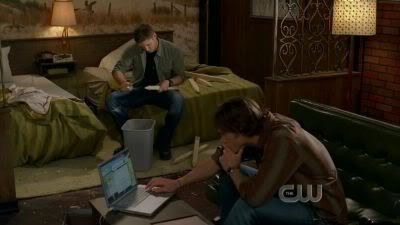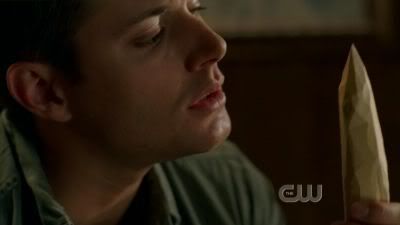 OMG SHOW STOP MAKING ME THINK REALLY, REALLY DIRTY THINGS.
It's nighttime and we're back at the Carrigan house.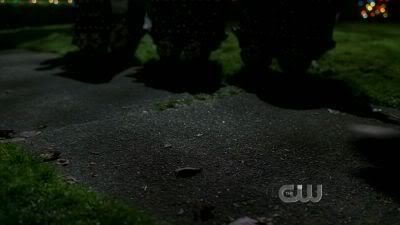 I think it might be time to start a "Carrigan Cardigan Company", no?
Dean picklocks, and they enter the house.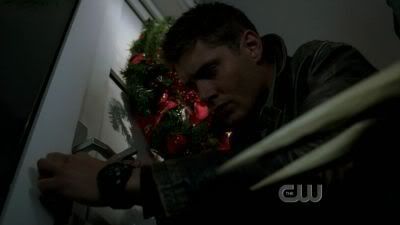 Where they promptly get distracted by all the shit that's inside, and LOLOL WHO WOULDN'T?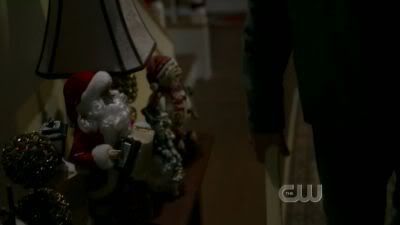 My theory is that they keep hundreds of these little figures in the attic, and bring about about twenty of them specific to every holiday.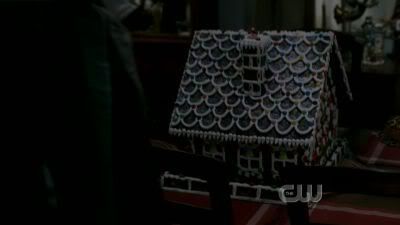 I WANT THAT.
In the kitchen, Sammy finds a door, and feels the inexplicable need to shine a light on it.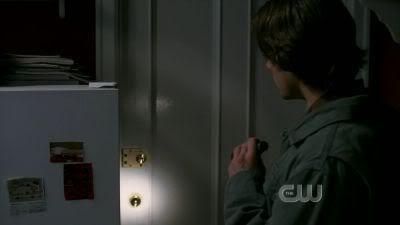 "Look! I found a lock!"
Sam and Dean go down into the creepy ass basement WHERE YOU CAN'T SEE ANYTHING, but maybe this is for the better, because it's not pretty.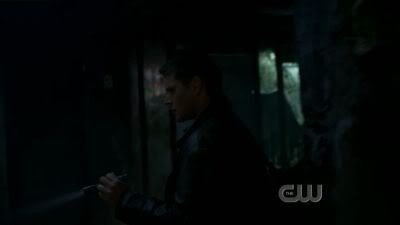 Pretty much it's just blood and guts in a basin.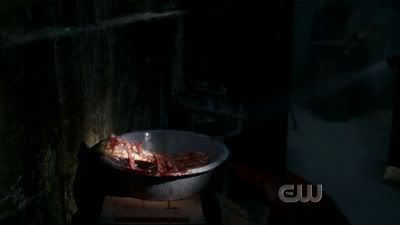 And gnawed-at bloody bones.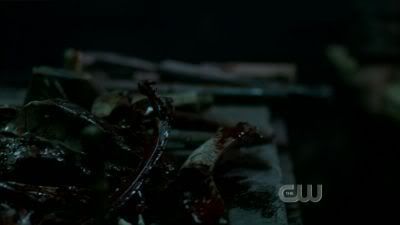 Sam is disgusted.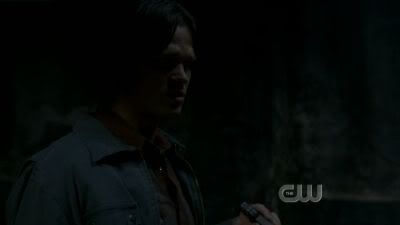 Dean is disgusted.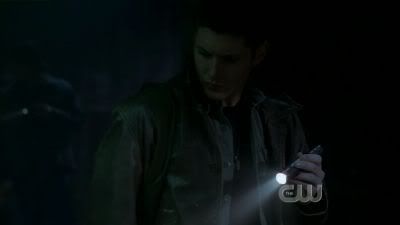 Sam gets strangled.
And Dean gets bludgeoned in the face.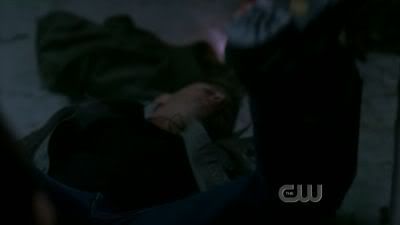 Mrs. Carrigan: Gosh, I wish you boys hadn't come down here.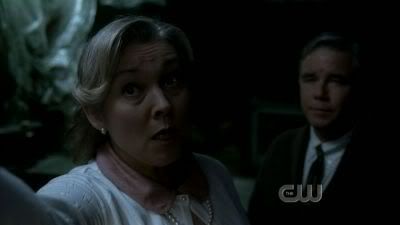 Creepeh.
A clarinet version of "We Wish You A Merry Christmas" plays as the boys wake up.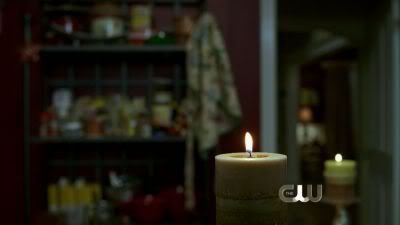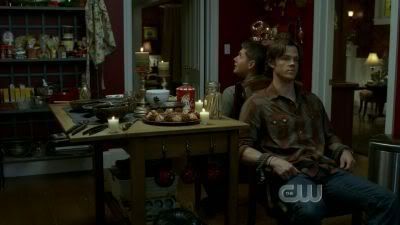 In come the Pagan Gods.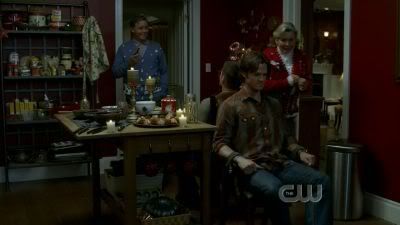 Dean snarks, and Mr.God calls him a "kick in the pants".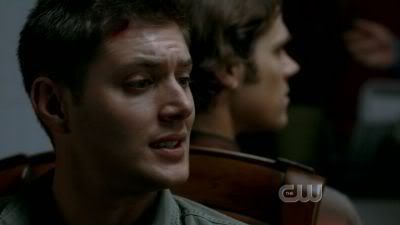 Sam bitchfaces.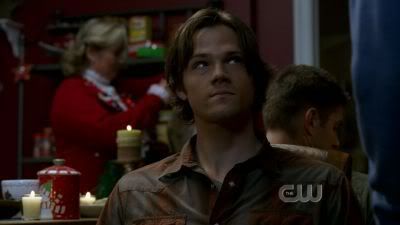 Mr. and Mrs. God demand some respect, and tell them that they used to take over 100 tributes a year. Mr.God tells Dean not to get "all wet". I'm pretty sure there should be some Mr.God/Dean fic out there somewhere.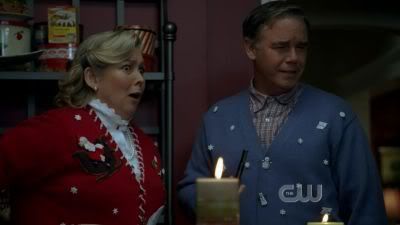 I want those faces iconed.
Mr. and Mrs. God only take two or three sacrifices a year.
Mr. God: Hardy Boys here make five.
That is SO a
shoutout
. Aaaaand I just recommended you to a place that does this entire thing 100 times better than I ever could.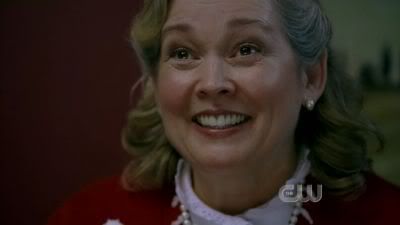 Classic.
Then, while explaining their history of persecution, they begin their ritual, which I'm not going to really go into.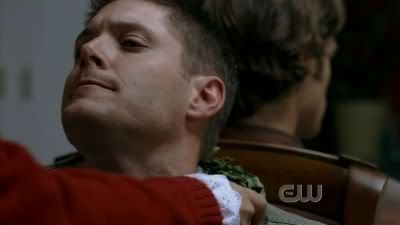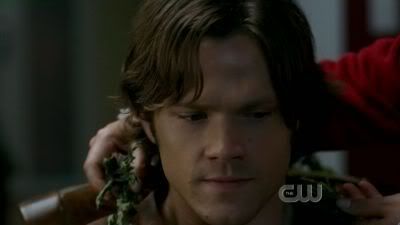 Except that it eventually leads to OMG. OMG WHAT IS HAPPENING?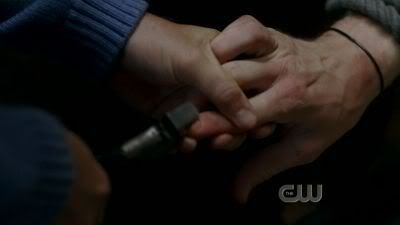 WHAT. IS. HAPPENING?
NO. NONONONONONO.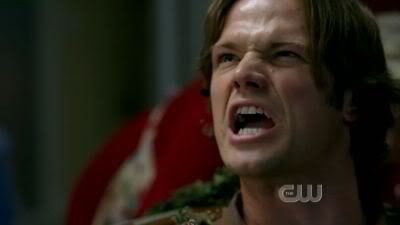 THEY'RE HURTING SAMMY, THOSE BASTARDS!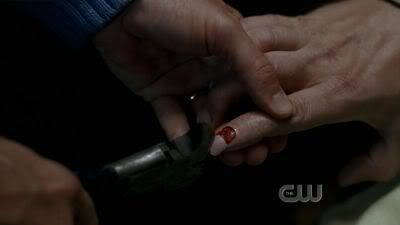 HOMG HOMG HOMG HOMG HOMG.
Dean is equally displeased.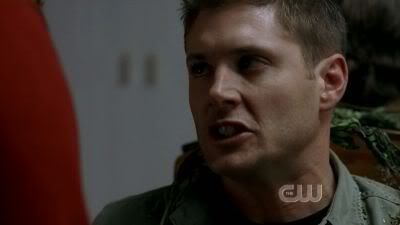 Dean has learned to replace his swearwords with "fudge" per Midge's request, and exclaims "If you
fudgin'
touch me again, I'll
fudgin'
kill you." I hope this trend continues.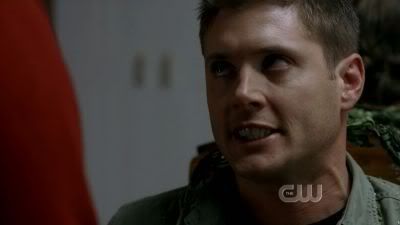 But oh no! They've forgotten the tooth!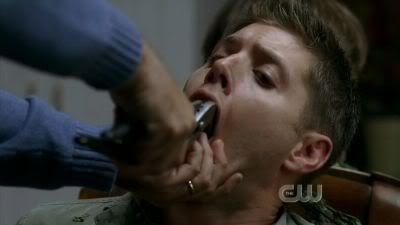 And just as the operation is about to get underway, the doorbell rings.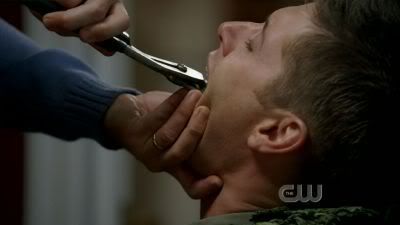 "Ish shomebody goin' to geh thah?..You shouh geh thah."
As the Carrigans get a visit from their lovely neighbors, Sam and Dean break free and trap the pair when they get back into the kitchen.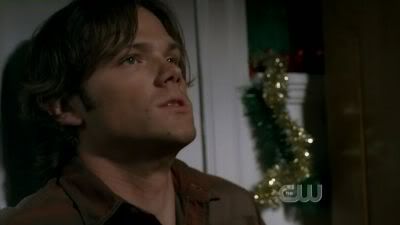 A battle ensues, which I'm not going to recap, but I'll post plenty of pictures. The main point is, of course, that the Winchesters win by stabbing tree branches into the Carrigans.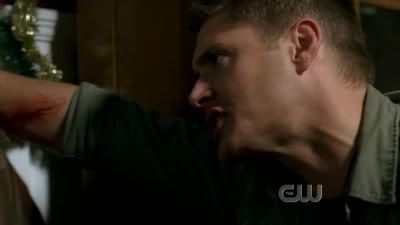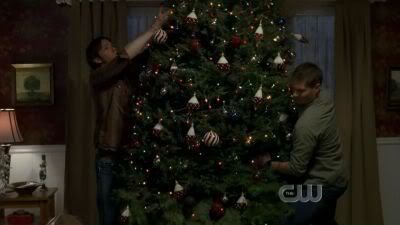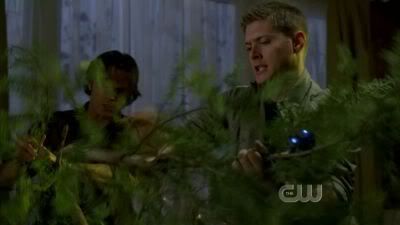 After the break, we go directly into our third and final flashback. Soft music plays in the background as later that night, Deanster wakes Little Sammy EmoBangs.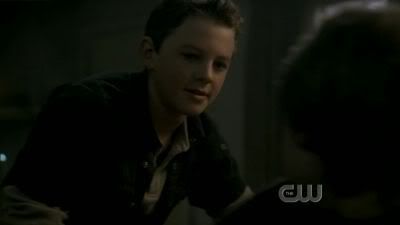 Deanster tells Little Sammy EmoBangs that Pa Winchester was there and left them "a killing", which I don't think is the greatest word choice, but whatever.
There's a tree with presents, that Deanster obviously set up, but Little Sammy EmoBangs plays along until he opens the presents.
Little Sammy is now the proud owner of a Malibu Barbie.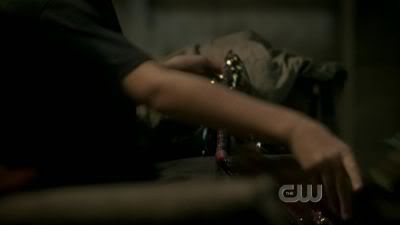 And a baton.
Dean fesses up, and then swears that he didn't know they were chick presents.
Little Sammy reaches into his bag, and gives Dean the present meant for their Dad.
Little Sammy EmoBangs: Dad lied to me, I want you to have it.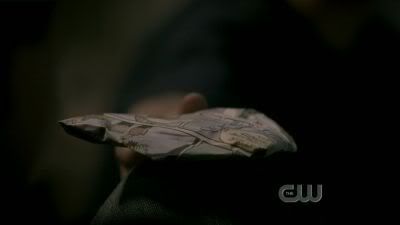 It is, of course, the amulet. Deanster immediately puts it on, and never takes it of ever, ever again.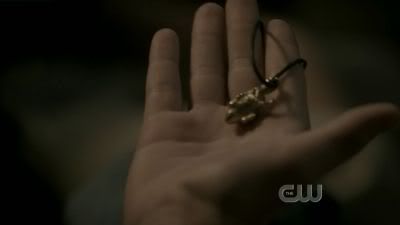 Sam glances around nervously waiting for Dean to get back. "Have Yourself A Merry Little Christmas" plays, which is only my favorite holiday song ever 'cause I grew up watching the movie.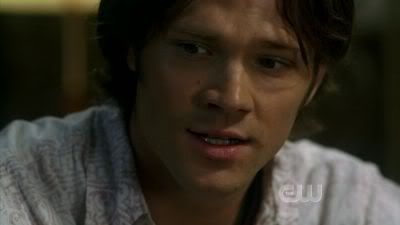 Dean: What's this?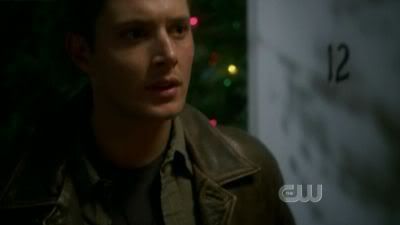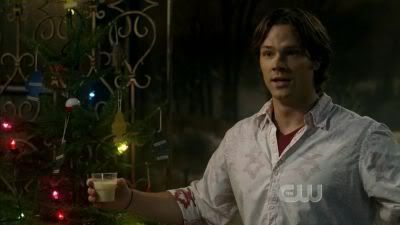 These boy kill me dead. There are no words for this scene. (Also, I'm lazy.)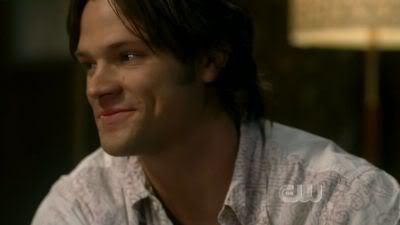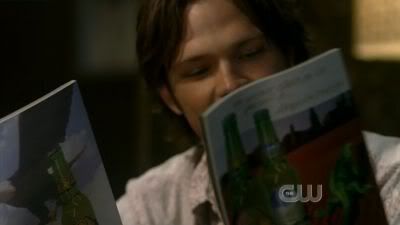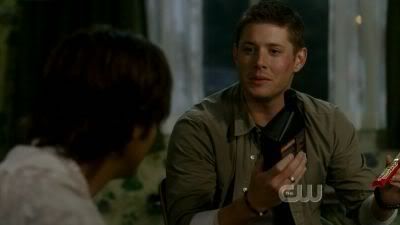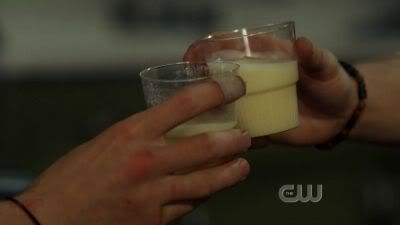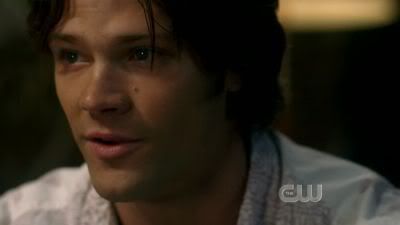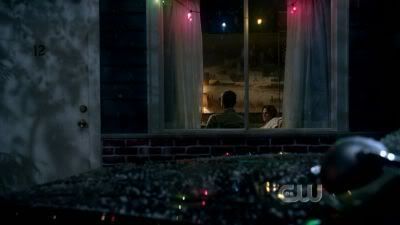 *tear*
Current Mood:

nostalgic

Current Music:

Have Yourself A Merry Little Christmas- Judy Garland